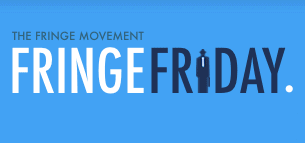 If you're concerned about the future of FOX's Fringe, which will be moving to Fridays come January 21, you're not alone. There's a whole legion of fans out there who share the sentiment. And they're certainly not planning on letting their show succumb to what has been known as the "Friday death slot." They're fighting, and they're determined to keep Fringe on the air for as long as possible.
Enter the Fringe Network, a dedicated group of fans who have banded together to show support of their favorite show. "Our goal is to promote the show through a series of campaigns and [to provide] resources to fellow Fringe fans so the love for the show will be seen and heard by all their friends and followers!" claims the site.
The first of that mentioned "series of campaigns" has already started, and it's in full swing. It's called Project Fringe Friday, and aside from a pretty cool logo featuring the enigmatic Observer from the show's mythos, the campaign is surprisingly focused — and surprisingly rational.
"The initial reaction of the fanbase [to the Friday move] was something very close to outright panic and dismay," the site states on its page titled A Call to Arms. "However, we've come to realize that the move to Friday could prove to be a good thing for our favourite show. Or at the very least, not the beginning of the end that so many people seem to fear."
And here, folks, come the true words of reason: "Some of you might remember that our initial campaign was to carry a message of 'Save Fringe', but that carries with it a rather more negative connation than we would like. Here is the crux of the issue: Fringe does not need 'saving'. Much like Olivia Dunham, it is entirely capable of kicking ass all on its own "it just might need a little support every now and then.
"The Fringe Movement is issuing a call to arms for all Fringies: do whatever you can to get the word out, by whatever means possible. Make some noise on official forums, on Tumblr, on Twitter, and whatever other social networking sites you frequent. The message is simple: watch Fringe on Fridays. Or as we've taken to calling it, FRINGE FRIDAYS "short and sweet. And keep in mind that the first episode in January will be titled 'Firefly'(yes, we're aware of the irony) and air on Friday, January 21st, 2011, not on the 28th as initially announced."
I recently had a chance to speak to Joy Roxas, the brains behind much of the operation. "Through a series of smaller campaigns we will be providing tools for other fans to use so they can spread the word all over the web," she said, pointing out the site's current Fringe Twitter Force as an example (to join the force and for more information, email [email protected]).
"[That] is one of the many "get involved" campaigns that we will be running," Roxas shared. "There are a lot of ideas going around. Of course we can't do 'em all, and in this case we have to keep it very in-tune with our objectives. But we are open to suggestions from anyone.
"In the coming weeks, a few more "Get Involved" projects will be released in preparation for January 21. We wanna lay down the foundation nice and early so the impact will be greater and like Kevin Reilly said, the fans are "loyal" – All of us are really the driving force here, with a bit of guidance and encouragement I think this can really help put the show in a new light."

I'll certainly be pitching in to see how I can help, and you should too. It would be a real shame to see one of the greatest shows on TV right now fall prey to cancellation simply because of simple move. That might not happen after all, though. It certainly seems less of a possibility with the Fringe Network on its side.
Visit the Fringe Network at its website, FringeNetwork.com. Fringe will return to FOX on Friday, January 21 at 9/8c, with the episode "Firefly."