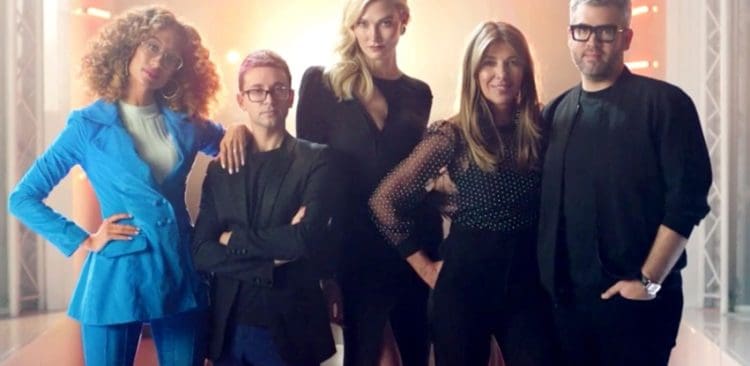 Classic or new-era, we all love Project Runway. The glamour, drama, and beauty make for an absolutely stunning combination. We love to cheer on our favorite designers and watch their models walk the fashions for the judges. The creative and visual elements of the show keep us coming back season after season to see who the next winner will be. When the judges hold us all in suspense on the season finale as we wait to see if our top choice won the day with their brilliant couture clothing is one of the best things on TV all year.
1. Project Runway: After Dark
We all know the designers on the show have it hard. They spend a long time cooped up with the competition far from friends and family. Sharing a room with the person who might be destined to take your dreams away is difficult at best. With all the wildly different personalities there have been some tremendous on-screen moments. The way the designers interact is part of what makes Project Runway fun. We'd like to see more of the other side of the show. When the designers go back to live together at the end of the day, we see an occasional snippet, but it's not enough. We want more. A show that details the after-hours struggles of the designers and shows us what the eliminated contestants are up to while they wait for filming to end would be amazing. Taking those extra steps and going even deeper into the runway world is something lots of fans would love.
2. Project Runway: Face
When we sit down and watch the designers, there's plenty to love. The highs and lows of their emotional journey are just dynamic and enjoyable. The swirl of fabric and beauty of what they create within the strict time limits is what plenty of fans are tuned in to. There's another story here though. It's been addressed before in shows like Americas Next Top Model, but not with these models. Season 17 saw Project Runway incorporate a transgender model, but we didn't get a lot of detail. We're feeling left out of too much action here. We think a show about the experiences the models have during filming would make a great supplemental spinoff. Let's see those model confessions where the girls who get poked, prodded, critiqued and trash talked by rival designers get to have their say about it. We love the idea of seeing the fierce and lovely women who make the designers outfits into a moving artwork as more of a feature on their own show.
3. Project Runway: Where Are They Now
A couple of smaller features have been done about what happens to designers once the show ends. It's nice to get that little peep into the larger world of the brilliant minds who make this show so worth happening. We can't get enough of our favorites. Even the designers we love to hate fascinate us and make us curious about where that attitude comes from. Maybe this would be best as an internet show, but we'd watch it. The day to day lives of these designers is good drama too. Following the failed designers as they work their day jobs and try to find other outlets for their talent would be sad, but a worthy topic. The designers who went on to work in the fashion world could bring us fresh perspectives on their unique profession. Talking some places into allowing a film crew inside could be problematic, but it's worth the trouble. The struggle is real, and it doesn't end with the finale.
4. Project Runway: World Fashion War
Project Runway's massive success has led to more than one region based spinoff. If you haven't checked out some of these fresh takes on fashion, then you're missing out on a lot of the fun. There are thirty versions of Project Runway that take place around the globe. Sites as exotic and diverse as Mongolia, Turkey and Vietnam have their own versions of the show. India doesn't have one yet, but we're sure they will soon enough. With all those talents from everywhere on earth, there's real potential for another show in there. We think the runners up from each season of every variation should be invited to do a second show. Thirty designers from around the globe, each with their own unique take on the fashion industry. The biggest challenge would be choosing where to film the show, but whatever the producers decided would be fine by us. Imagine everything that makes Project Runway great and then brings in more perspectives and people than ever before. We think it would be epic.
5. Project Runway: Stylebook
Sometimes a spinoff doesn't need to be everything all at once. A simple spinoff at the end of every season detailing the elements of what this year's designers brought to the fashion stage would be great. Add in some tips for incorporating the looks into a typical persons' wardrobe, and we'd be hooked. Pointers on combining the cutting edge and neoclassic styles being created now with our old standbys like the little black dress would be superb. After all, what fashion-conscious fan doesn't want a little advice on how to make it work? Each designer could add their own favorite wearable styles to help keep us on trend. As fans, we'd love to get a walkthrough of all our stylists' private closets. It wouldn't be too hard to include snippets from the guest judges and other notable cameos on the show. A miniseries would be fine for this spinoff, as long as they make one every year so we can stay on trend. It's more of a practical application than high fashion, but we think Project Runway could handle dressing down a little for us.
6. At Home with Christian Siriano
We love him. Christian Siriano was born to design; just look at his name. It's like his parents always knew who he'd become. His impeccable style makes him fun to look at, and his good-natured attitude is always worthy of another scene or two. Ever since they brought him back for the new seasons of Project Runway, and we couldn't be happier about it. He's been a fan favorite since we first saw him. We respect that he has his own designing to do on top of filming with Project Runway, and we don't want to burn out our favorite designer, but there's never really enough of him for our taste. A spinoff where Christian gets to do his own talk show style format would be fantastic. We think he'd make a great host and ask al the right questions of his guests. Maybe he could even talk Michelle Obama into coming down for a visit on his set to talk about the dress she wore that was his design. We know he'd have a fantastic set because design is in his blood and we love the way he interacts with people so he'd make a great host. If we're lucky doing Project Runway aga is just the next step in a long series of Siriano-TV
7. Project Runway: Stars
We know Project Runway does an all-star variation where they bring back some of the best designers. It's brilliant and a ton of fun to watch. We like it so much it inspired us to consider taking the 'star' concept further outside the box. In the grand tradition of Celebrity Boxing and Dancing With the Stars, we nominate celebrity sewing for your consideration. It would be a bizarre twist on reality Tv to see famous faces who are not designers face off. We know sewing isn't easy and designing is even less so, but we think it could work. Maybe not forever, but surely for a while, the producers could get their hands on some celebrities who own some stitching and design skills they've secretly been dying to try out. Let them compete for a cash award to donate to charity just like they so often do with other shows. Maybe we'd get to see a whole new side of some of the celebs who have their own fashion lines. It would be exciting to see recognizable faces and hilarious to watch them try and meet the deadlines.
8. Project Runway: Renew
This option would be more challenging, but we also feel it would be so much more worthy. Project Runway is diverse and trendsetting. We wonder if they could take all that power and turn it to a good cause. Donating a little money is one thing, but what about doing your part in other ways? We've never seen anything like what's coming next with this idea, but we're living to find out. We think there should be a whole spinoff using eco-friendly and renewable resources only. It would promote the heck out of the concept and bring high fashion into the arena of saving the planet in a new and exciting way. That's right; we want to see contestants doing a pineapple-leather challenge.  Materials like bamboo and silk are great for this, but there's a whole world of renewables to work with. Challenges could involve textiles woven from old plastic bags, or the designers might have to get the materials from other re-sold clothing they find at thrift shops. There are a billion ways to make this work and all of them have a singular and stunning impact on the world around them beyond merely bringing beauty to it. In the past Project Runway has touched on the concept with sackcloth and numerous other challenges, but there's so much more to explore here.
9. Project Runway: Epic
In a massive and inspiring turn of events, we think Project Runway could pull this concept off if anyone in the world could. Instead of regular designers, or former contestants or even stars, we feel they should do a short run competition between existing mega-designers. We know they have the chops to handle the sorts of challenges new designers get when they come on regular Project Runway, but what about going bigger? Brands and designers already compete so this is just a natural extension of the idea. We want to see genuinely titanic challenges for the best of the best in the fashion world. Have Tommy Hilfiger and Donatella Versace create wedding gowns for the stars of Little Women in half the time an ordinary designer takes to sew. Have Georgio Armani and Vera Wang design suits for an entire basketball team in less than a week. There are so many ways that this could go. Of course, just because we think it would get ratings doesn't mean the producers would have an easy time convincing epic designers to join the on-screen ensemble, but if they could manage to make this work, we'd binge watch the whole thing.
10. Team Runway with Crossovers
Group challenges are nothing new for Project Runway, but what about a whole show based on the idea. Teams of randomly chosen designers who don't know each other could work together to tackle larger projects than any solo designer could handle. We think it would be fun to see challenges where teams swap player and eliminations that allow a winning team to vote off the losers most reliable link. In addition to the excellent base concept, we think this would be the best possible version of Project Runway to add in an element of the classic crossover. We don't know if producers from different networks can put aside their differences and work together, but the possibility for something like a Project Runway meets Skin Wars hybrid episode thrills us. Taking the insane creativity of a show like Inkmasters and having a team of Project Runway designers create outfits to show off the other show's work on their much less model-like models could be amazing.
Final Thoughts
We didn't get to dram up the original show, but we can always imagine some ways to make it even better. Some ideas are more likely to be realistic than others. An international best-of designers show might be hampered by passports and issues like the fact that it's possible some nations might not want to contribute to a program involving national rivals. On the other hand, an idea like Project Runway: Renew could go far in the changing world. No matter where they go with it or don't, we're always going to be fans of the show. However, some of these spinoffs would make great addictive entertainment to include in the franchise.