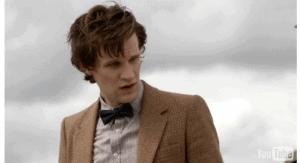 I just got finished watching the second episode of Matt Smith's tenure as the Doctor, "The Beast Below." I have to say, it was nothing like I expected. I won't spoil any of the many twists the ending packed (for you American Who fans out there), but I won't feel the least bit bad about giving you this teaser for episode three, which will bring back the Daleks in the most creative way since season one's (appropriately titled) episode "Dalek." (Well, they were used pretty well in "The Waters of Mars," but that role is really too small to count.)
As you'll be able to see, this episode won't feature the Daleks as any creatures of mass destruction. They're instead working with… Winston Churchill? That's right, the jowly Prime Minister of Britain has called upon the Doctor to show off his new secret weapon, the Daleks. But the Doctor knows about these devilish creatures, and will do whatever it takes to expose their secret. Why are they there? What do they have to gain by helping the Allies win the war?
The Doctor has been summoned by an old friend, but in the Cabinet War Rooms far below the streets of blitz-torn London, it's his oldest enemy he finds waiting for him, as the time-travelling adventures continue. The Daleks are back – but can Winston Churchill be in league with them?

The Doctor is played by Matt Smith and Amy Pond by Karen Gillan.

Doctor Who is simulcast on the BBC HD channel – the BBC's High Definition channel, available through Freesat, Sky and Virgin Media.
The episode will air next Saturday, April 17, in the UK. For US viewers who haven't already seen "The Eleventh Hour," that episode will premiere on BBC America on the 17 as well. That means "Victory of the Daleks" will air in the U.S. on May 1.