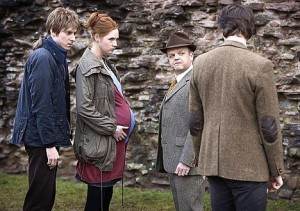 Next week's episode of Doctor Who looks to be one of the most interesting of the series. It's hard to explain judging from the trailer, but it seems as though a mysterious man who calls himself the Dream Lord has invaded the Doctor, Amy, and Rory's heads, and has created a dream so realistic that they cannot begin to establish which is reality. In one, they are with the Dream Lord in a dark TARDIS, and in the other, they're in "the village that time forgot," an apparent utopia with lots of malevolent looking oldsters. They don't know which world is real or not, but they can only escape by dying. The problem is, if they die in reality, then, as the Dream Lord so kindly puts it, "You die, stupid. That's why it's called reality."
So while it seems apparent that the "village that time forgot" is the dream aspect, since Amy is pregnant and there's a five year gap since "Vampires of Venice," it's also equally possibly that there's something else going on here, and that they are being tricked in some very strange way by the Dream Lord. Perhaps both are dreams? And why is the Dream Lord doing this, anyway? But the grin on the Doctor's face as he says "This is going to be a tricky one" means only one thing: it's gonna be a fun ride.
Check out the promo below. "Amy's Choice" airs next Saturday on BBC One.