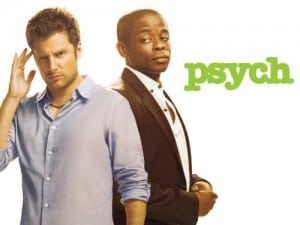 Calling all Psych-Os!  After the long awaited announcement of Psych's season 7 premiere date, we finally have our answer thanks to a video posted on the Psych Facebook page earlier today.
In the Facebook video, Psych stars James Roday, Dule' Hill, Tim Omundson, and Maggie Lawson delivered the news with Roday claiming the date was actually in 2014. After some corrections from his sidekick, Dule, it was cleared up that the show will resume in four short months on February 27, 2013.
USA's longest running show, Psych is known for its homages to a variety of topics and characters and season 7 looks to be no different. With a "Clue" themed 100th episode and a…wait for it…two hour musical episode, this season looks to be worth the wait .
Psych is a comedy / drama that follows the antics of police consultant, Shawn Spencer and his sidekick Gus as they work to help the Santa Barbara PD solve crimes through Shawn's "psychic" abilities…the only problem is, he isn't psychic. With an extremely keen power of observation that allows him to pick up on clues the detectives often miss, Shawn is able to, along with Gus, lead the SBPD in the right direction, even if it often takes a roundabout and hilarious way to get there.