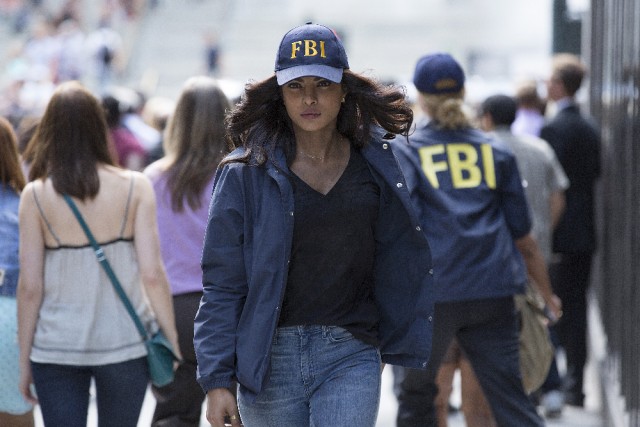 The much anticipated (and highly promoted) debut of ABC's new drama Quantico provided solid ratings for the network Sunday night. Quantico opened to 7.1 million total viewers and a 1.9 rating in the 18-49 demo, much higher numbers than Revenge's series finale back in May (4.8 million viewers and a 1.3 demo rating). In fact, Quantico gave ABC its best ratings in Sunday's 10 p.m. timeslot since 2012.
However, it wasn't all good news for the network, as Once Upon a Time dropped dramatically from its Frozen-powered Season 4 premiere. The fairy-tale drama drew 5.9 million viewers and a 1.8 demo rating, down 38 and 49 percent, respectively, from its fourth season opener but steady with the ratings from its finale back in May.
Additionally, ABC's other new drama of the night, Blood & Oil, premiered to 6.3 million total viewers and a 1.4 rating. Those ratings are down compared to Resurrection's Season 2 premiere last year and are, overall, disappointing in what has been a solid, if not spectacular, fall so far for ABC.
Elsewhere on TV last night, CSI finished up its run of 15-plus seasons with a special two-hour finale that was watched by 12.1 million viewers and garnered a 1.8 demo rating. The CSI finale saw the show's largest total audience since January 2012 and its best numbers in the 18-49 demo since May 2014.
Lastly, FOX's comedies returned as expected, bringing in pretty average ratings for the network, with Bob's Burgers netting 2.7 million total viewers and 1.3 rating, The Simpsons with 3.3 million/1.5, the Season 3 premiere of Brooklyn Nine-Nine with 3.1 million/1.5, Family Guy with 3 million/1.5, and the Season 2 premiere of The Last Man on Earth with 3.1 million/1.4.
Which Sunday shows did you tune in for last night? Did any of the new series premiering impress you? Comment below and let us know.
[Photo credit: Eric Liebowitz/ABC]