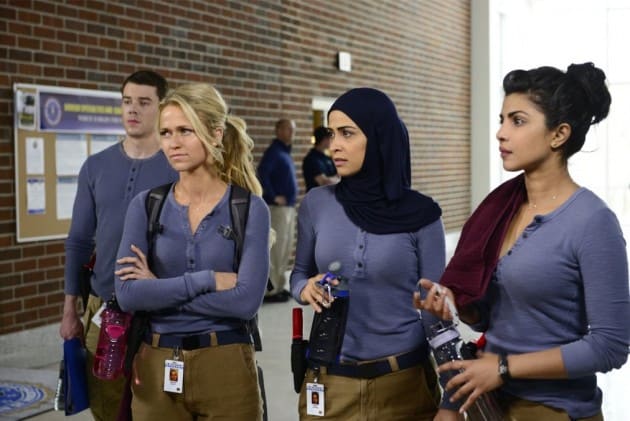 Wow. Quantico has now premiered and all I can say is wow. Having been underwhelmed by most of the new fall shows so far, I'm doubly impressed with Quantico's maiden voyage. It was intriguing from the start, but often times, shows can lose something between their trailers and actual pilots. Quantico has lost nothing, and remains one of the better new shows on TV.
This week on Quantico: Alex Parrish is among a new class of recruits to the FBI academy at Quantico. Then, the unthinkable happens. After a few short months, a major terrorist attack occurs in the middle of New York City, and one of the recruits is behind it. The FBI spends the episode questioning Alex about her first days at the academy, hoping to discern the terrorist.
This show has everything. If you like soapy "who sleeps with who and who's gay" drama, Quantico has something for you. If you like action, Quantico has something for you. If you like diversity, intrigue, and mystery, Quantico has all of those things. Judging from the pilot, this show seems to be incredibly well-rounded.
Let's start with some of the highlights. The main one is obviously Priyanka Chopra as Alex. She is absolutely scintillating. When you want your show to succeed, you pick a lead that can carry it, and Chopra can certainly do it. She has a raw honesty about her character, but she can also get tough, be sincere, or do whatever the moment calls for with relative ease. Should Quantico do well in the ratings and continue, I predict that it will launch the relatively unknown (relatively unknown in America, that is, since she's a mega-famous Bollywood star in India) Chopra into full-blown stardom. Though Quantico gives several reasons to watch, Chopra is the first and most compelling.
Some of the initial characters were in and out quickly, but it seems that this show is aiming to be more about content and drama than a certain group of characters. Aside from Alex, I could see a lot of these characters being gone by the end of the first season. I had a couple of thoughts in relation to the supporting cast. Johanna Braddy, for instance, is fresh off a stint on the summer hit, UnREAL. Shelby (her character) didn't turn out to be the most intriguing supporting player, but I very much like the actress and hope she continues. She did some solid work in the episode. Jake McLaughlin (Ryan Booth) and Tate Ellington (Simon Asher) presented a strong male presence. Does anyone think Ryan really bites it on the day of the terrorist attack? I think he really does. I thought both characters were extremely well presented.
There were some other really great storylines that all surfaced during the pilot. The Mormon trainee who had a secret. Everything going on with Nimah (and her apparent twin) Every story presented here was particularly compelling. I'm not certain that I will think that way if they draw them out for long periods of time, but so far, I'm absolutely in.
Quantico is the kind of show where you will probably have to decide to get in or out quickly. It very much feels like mash-up of the types of series created by super showrunners Shonda Rhimes and Greg Berlanti. There is so much meat and story in this show that it will quickly become the talk of the water-cooler at offices across America. There is so much possibility that everyone will have a theory and they could all be right or wrong. I, for one, am fascinated, and definitely plan to continue watching it.
What did you guys think? Did you enjoy the Quantico pilot? Will you be returning? Let us know in the comments!
Quantico airs Sundays at 10/9c on ABC.
[Photo via ABC]