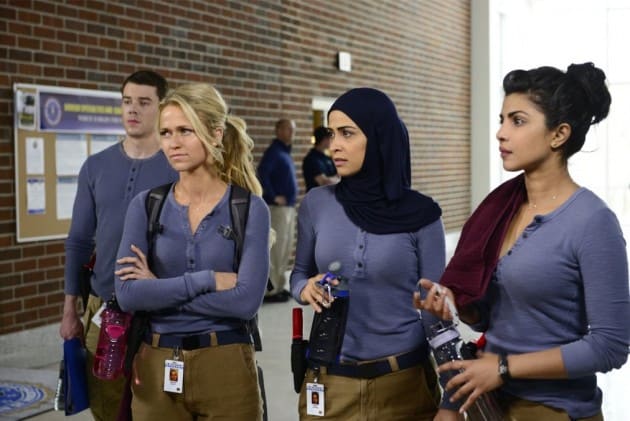 One of the most highly anticipated premieres of the fall is ABC's Quantico, a show that has been described by some as a mix between Homeland and Grey's Anatomy and stars the incredibly popular Bollywood actress Priyanka Chopra. And while Quantico doesn't officially debut until next Sunday, ABC is giving viewers a chance to watch the first eight minutes of the show's premiere episode ahead of time (and let's just say that A LOT happens within those first eight minutes).
Quantico was written by Josh Safran (Gossip Girl) and is executive produced by Safran, Mark Gordan, and Nick Pepper. The series focuses on a diverse group of recruits that arrive at the FBI Quantico Base for training. They are the best, the brightest and the most vetted, so it seems impossible that one of them is suspected of masterminding the biggest attack on New York City since 9/11.
The series stars Chopra (Mary Kom) as Alex Parrish, Jake McLaughlin (Believe) as Ryan Booth, Aunjanue Ellis (The Book of Negores) as Miranda Shaw, Yasmine Al Massri (Crossbones) as Nimah Anwar, Johanna Braddy (UnREAL) as Shelby Wyatt, Tate Ellington (The Mindy Project) as Simon Asher, and Graham Rogers (Resident Advisors) as Caleb Haas.
Quantico makes its series debut on Sunday, Sept. 27, at 10 p.m. on ABC. Check out the first eight minutes of the premiere below:
[Photo via ABC]