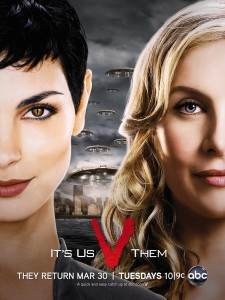 Are you a fan of V or Fringe? I am in Vancouver this week for set visits to both shows, and will be interviewing several members of the casts for TVovermind!
On Monday, I look forward to speaking with Scott Wolf (Chad Decker), Morena Baccarin (Anna) and Morris Chestnut (Ryan), among others, on the set of V.
UPDATE: Both Joel Gretsch (Father Jack) and Elizabeth Mitchell (Erica Evans) may now be available for interviews as well.
On Wednesday, I will be on the set of Fringe, but at this point in time it is unclear who I may have the opportunity to interview. I will keep you posted!
If you'd like to submit any questions for specific actors/characters, please do so in the Comments below.
All coverage from Vancouver will be spoiler-free.