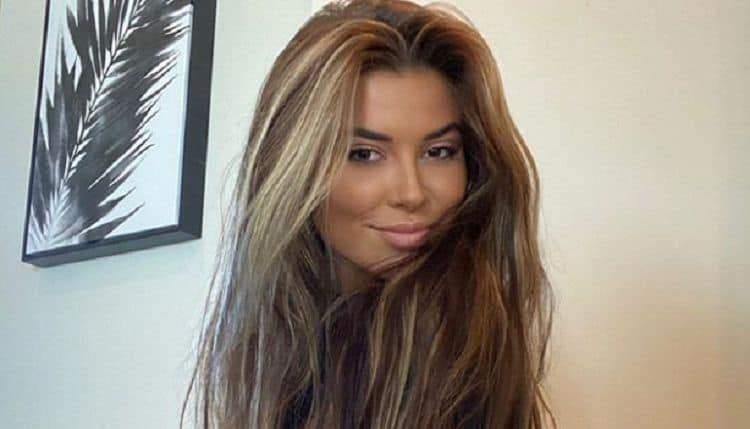 The outlandish and beautiful Rachel Bush has been making a splash for years, even though she's still young. Known as much for her wild personality as her rockin' body, Rachel is an Instagram model who's always posting her antics online. Whether it's photos of her on a jet ski in her bikini or some other exotic locale, this gal has a crazy life, and she shares it with the world daily. It's got to be hard being under so much pressure to perform all the time and look fabulous every second of every day, but she makes up for it by enjoying every second to the fullest and living her best life regardless of what the naysayers think of her.
1. She Just Turned 21 Last Year
Rachel Bush Poyer knows how to party. It should come as no surprise that the fun-loving young woman had something special in mind for her 21st last year. No, we're not talking about getting drunk, so many people do that it wouldn't even qualify as 'interesting,' let alone unique. Rachel had a very special photo shoot to commemorate herself. Posing scantly clad with a birthday cake is undoubtedly something that not every bikini model will ever do.
2. Happily Married?
Rachel isn't just a pretty face. She's also married to Jordan Poyer, the Buffalo Bills safety. They seem pretty happy together and have been dating since 2015. The pair had a daughter in 2017, the year before they married and most of the time it looks like they're happy and committed. Unfortunately, it wasn't always so. Jordan cheated on his gorgeous wife not long after they were married. The couple split up for a while but eventually reconciled. After all, they do have a daughter together. Sometimes forgiveness is the best policy when it comes to being good parents, though it doesn't excuse his behavior.
3. Stalker
It's not uncommon for a beautiful bikini model to have a stalker. When your every move is posted for the world to see on Instagram seconds after it happens, you become extra easy to follow. Stalkers can be terrifying, and beautiful women have to deal with them even when they aren't famous. However, what's a lot less common is for a semi-celebrity model to be the one accused of stalking. Apparently, Jordan's mistress or at least a girl he hooked up with posted her interactions with Rachel online. It's hard to blame a married woman for being angry, but threatening a stranger is just a bad plan. If the story is true, then Rachel has been stalking her husband's side piece for a while.
4. Accused of Ruining a Trade
Antonio Brown was supposed to be traded to the Bills. When the deal suddenly changed a very interesting rumor popped up. People all over the internet were saying the reason he wasn't moving over to the Bills was that he slept with Jason Poyer's wife, Rachel. Fortunately for Rachel and Jason, it looks like this is just a rumor.
5. Twerking on a Boat
Given that Rachel is known for her body, and has a backside almost as prolific as Kim Kardashian, it should not surprise you that she knows how to twerk. Sure, it's not everyone's cup of tea, but it is a great way to display an epic gluteus maximus. Recently, Rachel showed hers off while aboard a yacht down near beautiful Miami. She shakes her money maker on camera, and when TMZ posted the video, the whole world got an eyeful of what she works with under that dress.
6. Before He Put a Ring on It
Despite all the drama over Jordan being a cheater, it looks like he's not alone. Rachel may not have slept with Antonio Brown this year, but she had openly admitted that she cheated on him before they were married. She's done her apologizing for it and says that two wrongs don't make a right. Perhaps she doesn't see the irony in that statement when she threatens another woman, but we're not here to judge the facts, just to share them with you.
7. She Asked Her Husband Not to Protest Racism and Police Brutality
If you watch professional sports than you've probably seen players stage a protest at some point. The causes vary, but many teams and players show their support for a cause and help raise awareness for it through peaceful protest during the national anthem. As activism goes, this is relatively mild and polite. However, some people still see it as too extreme or risky. We are not sure what motivated Rachel to tell her husband not to protest, but she did tell him not to do it.
8. Lebron James Hit on Her
When you're young and gorgeous, it gets you a lot of attention. Sometimes it can even get you the attention of an older married man. When he's famous like LeBron James, you can either say yes or do what Rachel did and post it to the internet. The story was a sensation briefly, but since LeBron refused to ever comment on what happened, there wasn't much story to be had. Eventually, it fizzled out and just went away.
9. She's a Scorpio
Rachel was born November 1st of 1997. That makes this bombastic babe a Scorpio. If the stories are true Scorpios are firey, easy to anger, and slow to forgive. They are fireballs and tend to be wilder and more passionate than most other signs. We're not taking a position on the age-old debate about whether astrology is valid, but in this case, it sure seems to apply to Rachel.
10. Miss Teen New York Semi-Finalist
Rachel was a pageant girl before she was a model. We don't find this surprising at all. Just like her zodiac sign, we could have predicted this based on stereotypes alone. Don't get things twisted, we admire any woman who is making a killing in her profession. Plus she's a working mom and married to a football player which means her husband is away a whole lot. She may not have made it as a teen beauty pageant winner, but she managed to parlay it into a very successful career anyhow, and that is an accomplishment by itself.
Final Thoughts
Models and football players wives are known for having bodies to die for and attitudes that are over the top, to say the least. Having people stare at you all day and judge your body can't be easy, and we want to be kind, but sometimes it's hard to see the bright side when someone makes the news for being at the center of a bad situation every time we hear their name. We certainly hope the lovely Rachel Bush mellows out a bit as she matures, and that her early fame and troubles can lead to an excellent later in life career and a whole lot of happiness.