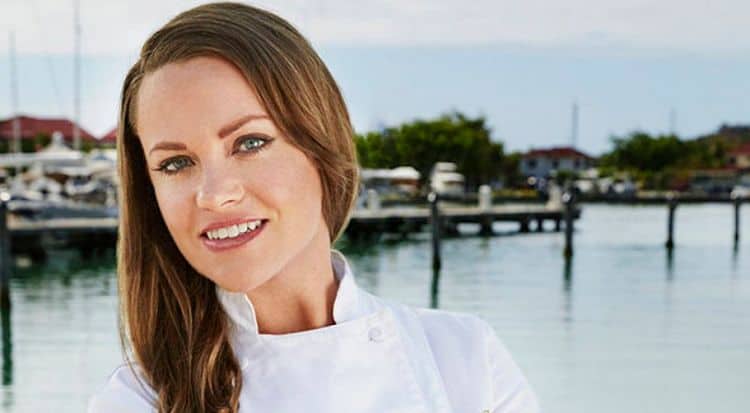 "Below Deck," fans are always excited when someone new shows up on the boat. Right now, everyone is curious about the new chef. Her name is Rachel Hargrove, and fans don't know that much about her. She's made her appearance, and everyone is curious. What's she like, what will she add to the show, and will she get along with everyone else? We don't know how her time on the show with so many others will go this season, but we do know a few things about the chef that you might find interesting.
1. She's Got a Fan in Kate Chastain
It's not a huge surprise that fans were shocked when Kate Chastain left the show after season 7. They didn't see it coming, but it was her time. However, she's worked with Rachel Hargrove in the past, and she has nothing but lovely things to say about the chef. She calls her talented, intelligent, and hilarious, and she says her fans will love her.
2. She's Professionally Trained
She's not someone who is just working in the kitchen to work in the kitchen. She's a professionally trained chef, which is what you want when you're on your yacht. She trained at the Culinary Institute of America. However, she also believes that most of her talent is self-taught. School only helped her refine the skills she learned and taught herself while growing up.
3. She Trained in Italy
When she was done training, she did her apprenticeship in Italy. Her job was at a restaurant with a Michelin-star rating, which is huge. She was working for Quatro Passi. It's located in a place called Nerano, and it's one of the best in the world. She is part of that.
4. She's Into Yoga
We've been saying for years that yoga is the best thing that ever happened, but not too many people we know practice. However, she knows the advantages of practicing, and she does so. She's not just practicing, either. She's a trained instructor. She specializes in a type of yoga called Ayurvedic. It's old, and it's good.
5. She's a Massage Therapist
What we are hearing is that she is simply a woman of many talents. She's someone who is going to do what she needs to do and she's going to do it well. She's a massage therapist, a professional chef, and a yoga instructor. We'd not be surprised if she has a few other talents up her sleeves she's not mentioned yet.
6. She's Good About Finding Ways to Help Her Clients
She also practices different methods of cooking, too. She went to India to help find new ways to cook for clients who might have specific diets. She was led to the Ayurvedic way of cooking when she herself began to experience some health issues. She dealt with digestive issues, and those caused her to want to study alternative methods of cooking to help.
7. She Tried to be A Model
Oh, right. Remember when we said that we thought she might have a few other talents up her sleeve we did not know about? Well, she did. She was on "America's Next Top Model," season four. She tried out for Tyra to be a model. It didn't work out for her as a winner, but she did make it onto the show, and that's kind of awesome.
8. She's a Floridian
Oh, hey neighbor! She grew up in Tampa, which is one of my own personal favorite Florida cities (as a Florida native). She's been all over the world, but her life was spent primarily in the Tampa area when she was younger. Very cool.
9. She Loves to Travel
It's something she enjoys not just for the rush of being in a new place and meeting new people and doing new things, but because of her work. She gets to try new things and learn new ways of doing things, and that's always so cool. She's been to places all over the world such as Italy, Thailand, and so much more.
10. She's Private
She's going to be very famous now, but she still finds a way to keep her personal life to herself. No one knows that much about her outside of her work, and we have a feeling she likes to keep things that way. It's nice to have some fame but to be able to keep portions of your life to yourself. It's not a situation that she will likely change.