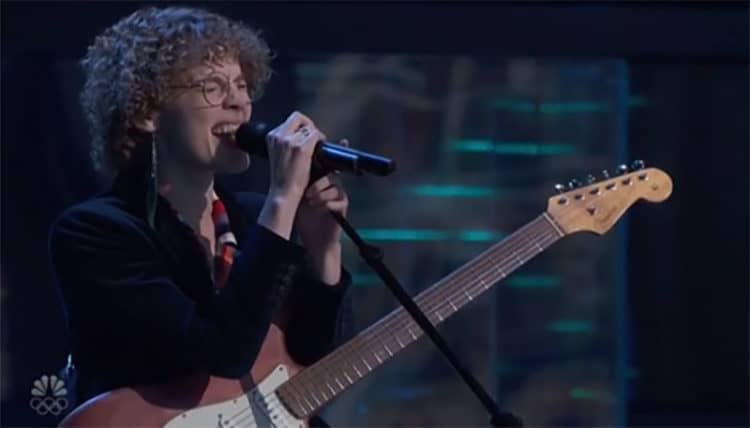 There are certain moments that have the power to change a person's life forever, and Raine Stern's blind audition for The Voice was one of those moments. Her performance of "Electric Feel" gave the judges (and the viewers at home) all the feels.  By the end of the song, three out of the four judges spun around in their chairs and were eager for a chance to get Raine on their team. Raine decided to join Nick's team and both artists seemed very excited for the chance to work together. We'll all have to keep tuning in to see how things go for Raine, but at the moment her future is looking very promising. Here are 10 things you didn't know about Raine Stern.
1. She's A Wisconsin Native
Raine was born and raised in Wisconsin and has lived in Madison for the last several years. Although she is very proud of her roots, she's ready to move on to bigger things. During an interview with Madison Magazine she said, "I'm a very frustrated person. That's not obvious because I love my friends and family that I have in Madison, but I feel very limited and constricted here."
2. She Is A Poet
Raine comes from a very creative family. Her mother is a poet and Raine was introduced to poetry at an early age. Eventually, she started writing poetry of her own and she feels that writing is the best way for her to truly express herself. While it doesn't appear that she has published any books of poetry, she has shared some of her work via social media.
3. She Has A Successful YouTube Channel
When you're an up and coming artist, social media can be an easy and cost effective way to get yourself in front of a wide audience. Raine has worked hard to build her online presence and she has a YouTube channel that currently has more than 12,00 subscribers. Her content consists mostly of her performances, but she does have a couple of other videos in the mix.
4. She's A Human Rights Advocate
Raine is the kind of person who has always wanted to make the world a better place, and music is her vehicle for doing that. She is passionate about social justice and humans rights issues and is a strong supporter of the feminist movement. She is looking forward to having a larger platform to share her talent and her message.
5. She's In A Relationship
After Raine's stellar performance on the voice, there are probably countless people who have flocked to her DMs hoping to get some attention from the talented artist. Little do those people know, they don't stand a chance. Raine is in a committed relationship with a woman named  Lydia Woessner who is also a musician.
6. She's Released Music
As someone who loves to write, it goes without saying that Raine spends a lot of time working on music. Over the years she has written countless songs and has enough material to put out several albums. She hasn't put out a full length project just yet, but she's released three singles so far.
7. She Attended Madison College
Raine went to Madison College for one semester before realizing the traditional path simply wasn't for her. Instead, she knew that she wanted to focus all of her time and energy on music. She decided to leave school and pursue her career full-time and she hasn't looked back since.
8. She Was In A Band
Thanks to The Voice the world is getting to know Raine as a solo artist, but she hasn't always performed by herself. She has been in a handful of bands over the years and is currently a member of The Raine Stern Band. Whether she's on stage with other or rocking out by herself, there's no doubt that Raine always puts on a great and unique show.
9. She's Not Interested In Being Famous
Fame will like be a byproduct of Raine's time on The Voice, but fame isn't her ultimate goal. Instead, her only hope is to get to a place where she can use her platform as a way to raise awareness to the causes that are important to her. At this point, I think it's safe to say she's well on her way.
10. She Finished High School Early
Raine is the type of person who likes to give 100% in everything she does and high school was no exception. She took her studies very seriously and was able to finish school a semester early. Now she's bringing that same get-it-done attitude to her time on The Voice.