Now we all have heard about the religious sects that endorse polygamy. Shoot, TLC has created a television series out of it. Well, Raising Hope has thrown its hat into the ring of this hot topic issue… but with a little twist. When Cousin Mike returns after a 15 episode absence, he brings more back than the Chance family expected. Does this episode bring along a great deal of comedy along with its brother husbands? Give a hearty "Boo-ya" and read on to find out.
The big story this week was based around the return of Cousin Mike. When he showed up with his wife Tanya (guest Mary Lyn Rajskub) and his brother husbands (guest stars Paul F. Tompkins, Kent Avenido, and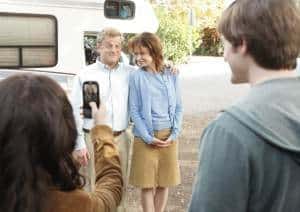 Christopher Frontiero) I expected there to be a great deal of humor between them and the rest of the Chance family. Sadly, I don't think we got the great moments of hilarity Raising Hope has given us the past episodes. However, we did get something else from this episode. What I am referring to is when Mike woo's back Tanya and the brother husbands. The song he sang was great but the basis behind the song was even better. What I got from it was that you have to listen to all those involved in a relationship, not just the one you really want to impress. While I may not be getting any brother husbands any time soon, I will remember the song before I start a new relationship. Even though Mike's time back in the group was cut short, I think the way it ended was classic. With Burt basing a story off of the balloon boy story, we were given one of the top (out of very little) moments of this week. Let's hope Burt can top his stint in prison (I Spy and tickling included) before the season ends, as he really is, in my opinion, the driving comedy force on Raising Hope.
Now, the smaller story actually came out of the main story this week. When Burt's brother Bruce (yet another guest star, J.K. Simmons) brings some items to the Chance's for Mike, the two brothers past is brought to life. While bringing in another Chance could have been overload at this point in the series (I prefer the family members to be spread out over seasons but that's me), Bruce was a great addition as he is different than Burt. A lot of times you see a series' make all brothers/sisters act somewhat the same. Raising Hope kept only a few minute details the same but, created Bruce as a great opposite to Burt. Simmons did a great job portraying the semi prosperous brother. The brothers acted as most brothers do with their fighting but in the end, having the two brothers realize their errors (all aimed at how they raised Mike) gave us the viewer another heart felt moment that Raising Hope seems to be getting good at.
Now my big problem with this episode has to be with the poor use of the guest stars. While we were given some quick comedy hits from Tompkins, Simmons, and Rajskub, I think they all could have been used more this week. Tompkins and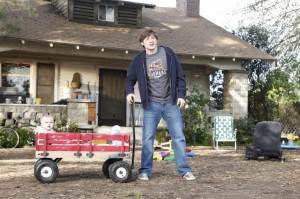 Rajskub have notably been funny in other projects they partake in but this week they felt flat. This could have brought the episode down but, I almost forgot about most of the lack of comedy due to a single t-shirt worn by Jimmy. While it seemed to be just an ordinary t-shirt to some, seeing Jimmy wear a Toledo Mud Hens shirt was just an awesome moment. This may be a nod to MASH, as star Jamie Farr is from Toledo, or some other reason, this moment caught me by surprise as I myself live just outside of Toledo.
With a story that could have been funny, it was the guest stars that actually brought this episode down. While I would really like to see Bruce return, it's probably for the best if Tanya and her husband's stay away for a while. B-