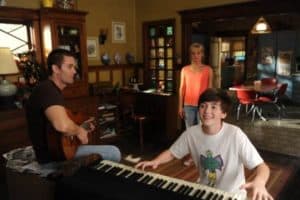 Grab your diaper bags, everyone, because Raising Hope is back for season two. The breakout comedy from last season has a lot going for it this year and we can expect to get plenty off laughs from the Chance family. Does the premiere make sweet music, or do all the notes fall flat this week? Read on and find out.
This week's episode kicked off in one of the greatest ways ever. It starts at Shelley's (Katie Micucci) daycare as she addresses the ensemble gang of dogs, elderly people, and babies about what has happened to Hope in last season. Now just listing everyone would have been great but as we know Shelley really loves to sing. The song was so cleverly written that if you never watched a single episode in season one, you would be caught up for season two by the end. It's the moments like this that make Raising Hope a show worth watching.
The story this week was focused on all Jimmy (Lucas Neff). After he discovers that he was once able to play piano and sing like a Top 40 singer, he begins to wonder how he lost that ability. It doesn't take all for everyone to learn that his golden voice was taken away by a case of ambrosia…..sorry anemia. Having Burt (Garret Dillahunt) be the one who took away Jimmy's gift could have lent itself to more humor, and possibly a funny argument but, having seen Burt chuck a putter across a Putt-Putt golf course, smack young Jimmy in the head, and then in the future having Burt ask if T.V fixes for amnesia worked (i.e Gilligan Island), was good enough. Of course, Burt didn't mean to do this but after becoming so jealous that Jimmy was becoming adored by young girls and Virginia (Martha Plimpton), any little thing (in this case being told he can't take a putter with him by the Putt-Putt course operator) was going to set him off and cause a bit of over the top anger.
While the name of the show is Raising Hope, I found that this episode did little with Hope this week. Yes, we did get the amazing song but, other than seeing Hope with Jimmy at certain times and Hope banging out notes on the piano, this show was all about the family. Oddly, I am ok with that. Shows that tend to make the baby a central part of each episode seem to fall apart very quickly (see Baby Bob). They even made a joke in season one about baby themed shows not lasting long. Raising Hope has a great thing going where while they are focusing on the other family members, the story is always tied to Hope in some small way.
I couldn't really finish this article without touching on the guest star this week. Greyson Chance took his first leap into acting this week by portraying a young talented Jimmy. I had no idea who Greyson was before this episode and I had to do some digging. I'm sure most of you already knew but, I had no idea he was a well-known pianist and Youtube star for some time now. With multiple appearances on The Ellen DeGeneres Show and an album that has been released, Greyson is becoming a rising star.
This may have just been the season premiere but it looks like Raising Hope is shaping up to be more than just a one season wonder. I can't wait to see where this new season will go. B+
So what did all of you think about this weeks episode? Did you love it, hate it, or just indifferent? Be sure to sound off in our comment section below or in our forums here.