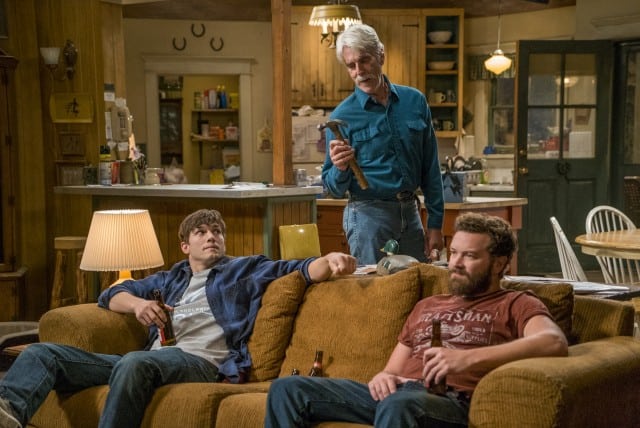 When it comes to original programming, dramatic series have long been where Netflix really shines. Over the past year or so, though, the streaming service has expanded its original lineup even further by adding comedy series to its slate. In 2016 alone, we've already seen the debuts of Fuller House and Flaked (if you think of that one as a comedy, that is), and we're only a short time away from the release of the highly-anticipated second season of Unbreakable Kimmy Schmidt. On Friday, Netflix expanded its comedy horizons more with the release of the first ten episodes of The Ranch, and, in both the good ways and the bad ways, it has more in common with Fuller House than with the service's other comedies.
The Ranch tells the story of a 34-year-old washout athlete, played by Ashton Kutcher, who, after accepting that he has a responsibility to his family (and with nothing else really going on in his life), returns home to the family ranch in Colorado. The ranch has seen much better days, and Colt's father (played to perfection by Sam Elliott) is trying as hard as he can to turn things around before he loses the place for good. In addition to Colt's help, Elliot's Beau Bennett is assisted by his other son and Colt's older brother, Rooster (played by Danny Masterson). Also in the mix is the boys' mother and Beau's estranged wife, Maggie (played by Debra Winger), and Colt's high school girlfriend, Abby (played by Elisa Cuthbert).
Let's start off by talking about the good. Despite what many reviewers would have you think, there's actually a lot of charm to be found on The Ranch. The show's biggest draw, without a doubt, is the reunion between Kutcher and Masterson, co-stars on That 70's Show. It turns out that they still play off of each other as well today as they did back then, and some of the show's most successful jokes come from the two brothers. Their characters are oddly similar to Kelso and Hyde from the previous series (which some people might see as a negative), but the actors are easily able to jump back into the right mindset that they need, and it allows for an extremely natural relationship to play out on-screen. In addition to these two, it's easy to say that The Ranch's biggest strength is its cast. Sam Elliot's Beau is analogous in plenty of ways to Parks and Recreation's Ron Swanson, and we're able to get a lot of that same type of humor from the character. He also pairs perfectly with Debra Winger's Maggie, and the two provide some very welcome dramatic moments that succeed, thankfully, much more often than they fail. Elisha Cuthbert's Abby is able to steal the scene whenever she's on-screen, but that, unfortunately, isn't a lot. As with any sitcom about a family, the biggest drive for the series family drama, and there's plenty to go around through these first ten episodes. The main story is extremely unoriginal and uninspired, but this cast is able to make something good out of a lot of mediocrity.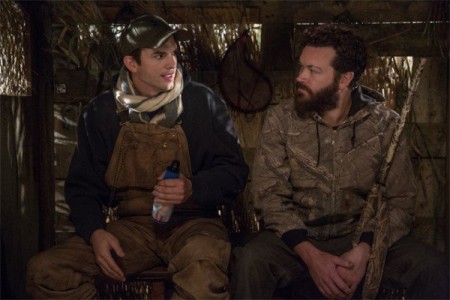 With the good also come the bad, and, unfortunately, The Ranch has plenty to offer there, too. If you can't deal with a laugh track, then this show is definitely not for you. In every possible way, The Ranch showcases every single trope you'll find in this type of sitcom. Oddly enough, though, it tries to pretend it's different by taking advantage of the freedom provided by Netflix. Throughout an episode, you'll hear a range of vulgarity that you'd never be able to witness on network television, and there's even a gratuitous butt-shot or two present. This isn't a negative itself, but it just doesn't at all pair well with the type of show that The Ranch is trying to be. In addition, it never seems like the series can figure out how to balance its tone. There are some wonderful comedic moments and some equally great dramatic ones, but the balance just never feels right. There's always something holding success back, but it's difficult to pinpoint exactly what that is. The series also suffers from having little-to-no character progression from the first episode to the last, but it's a bit more understandable when you remember that this is only the first half of a season. You have to wonder, though, why it was split up this way if it were going to suffer so clearly.
The Ranch is not great television by any stretch of the imagination. In many ways, it's not even good television. Despite its flaws, though, the series is entirely watchable and sometimes enjoyable. At the very least, it's always a good time having all of this cast together, but we'll have to wait and see if that's enough to get people to tune back in once the remainder of the season drops.
The first ten episodes of The Ranch are currently streaming on Netflix. The remaining episodes of season one will debut later this year.
What did you think about the first ten episodes of The Ranch? Will you be checking out the second half of the season? Let us know your thoughts in the comments down below!
[Photo Credit: Netflix]
The Ranch: Season 1 - Part 1 Review
Summary
Netflix's latest attempt at a multi-camera sitcom fails on plenty of levels, but the excellent cast is able to make something out of nothing.