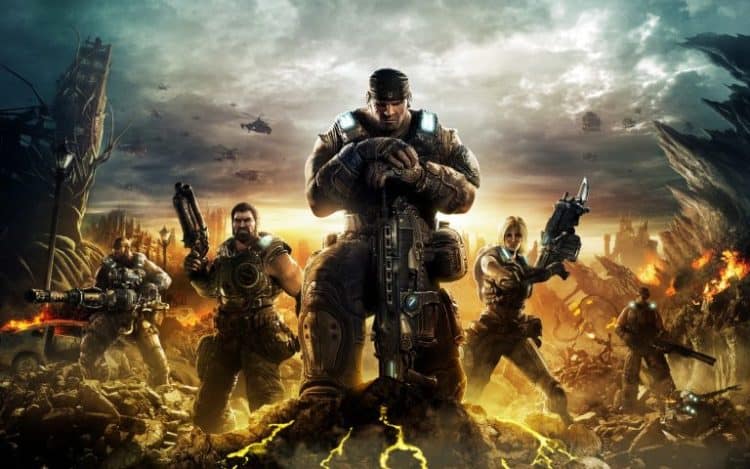 It is hard to believe that ten years have passed since the first Gears of War title thrilled gamers and gave Xbox 360 fans an exclusive story to call their own. In the years since there have been four more releases. Each one has delivered high-octane adventure, with a generous dose of heart and smarts.
This is one of the things that makes the GOW franchise stand out. Yes, it is gory and all about the messy kills. In many ways, it is hyper-masculine and filled with predictable tropes. Yet, it is also very thoughtful. It has a tendency to touch upon issues of masculine weakness and vulnerability. It does this without ever descending its mawkishness or silly clichés.
The recent release of the fifth title — though it is called Gears of Wear 4 — is currently making up for a lackluster experience in Gears of War: Judgement. Fans weren't delighted to find that several popular gameplay features (like 'Down but Not Out') had been abandoned and the focus would be on a bunch of, previously, side characters.
On the other hand, despite the gripes, Judgement is really the only weak point in a stellar franchise. It is still worth playing, especially if you're a big GOW fan. Keep reading to find out where the other four titles rank, according to the plot, characterization, and gameplay.
5. Gears of War: Judgement
No surprise to find that the fifth title, Gears of War: Judgement, comes last on the list. It was certainly an interesting decision to move away from the established narrative and release a non-numerical entry. Perhaps the aim was to shake things up a bit. There just isn't much meat to it though and the focus on Baird and Cole, plus a cast of unknown figures, is a bit jarring, particularly after the intense emotion of Gears of War 3.
The weapon system changed as well, which is a little frustrating. Being able to cycle between four guns has always been a popular feature of the franchise. There is also noticeably less 'duck and cover' action and this can take some of the urgency and the pace right out of the bigger sequences.
4. Gears of War
Even at ten years old, the original Gears of War still looks pretty impressive. The cooperative campaign continues to offer some of the finest shared thrills and spills on any gaming console. It was and is a strong game because the cooperative play isn't tacked on as a hurried extra. It is skilfully crafted and offers a wonderful experience for those who prefer to dominate the horde together.Special mention has to go to the Nightfall segment, which sees Marcus and Dom fighting off kryll with ultraviolet light.
It is fast-paced, utterly heart pumping fun. The only noticeable weakness with Gears of War is something that you'd actually hope for with a major franchise this one. It is a superb game, but in comparison to later releases, it can feel a bit dated. If you had to choose one game to play for the rest of your life, it probably wouldn't be this one for that reason.
3. Gears of War 4
This is the fifth and most recent release. The big twist is that the story is set twenty-five years after Gears of War 3. So, not only are players thrown back into a world where wingman Dom is gone, they're also confronted with an aging Marcus Fenix. There's a little whiff of Solid Snake here — particularly some of the newer titles — but that's never a bad thing.
In many ways, it is the moodiest game of all. The visuals are consistently bleak and the trio of main characters are forced to battle their way through a crumbling, post-war world. Once again, the focus is not on the guy who started it all, so it has a hard time living up to GOW 1 and 2.
2. Gears of War 3
There are a lot of GOW fans who absolutely adore the third title. It is their hands down favorite and nothing has managed to beat it since. Part of this is surely down to its emotional impact. The first two games invested a lot of time in the relationship between Dom and Marcus. Then, in the third, this one of a kind connection is severed. It happens in a pretty heartbreaking way to, let's be honest.
Despite this, Gears of War 3 never really matches its predecessors for pacing, plot, and characterisation. The action sequences are as brutal as ever, but the story meanders a little. The search for Marcus' dad just isn't as exciting as it could be and neither is the (often cheesy) romance between him and Anya.
1. Gears of War 2
Now to the defining Gears of War title and, surely, the superior installment in the franchise. It centers on the Gears and their fight to save a city from a giant worm. Yes, it is way over the top, but it works. The plot is quirky and a bit silly and it holds together wonderfully anyway. Gears of War 2 introduced many of the gameplay features that would become signatures of the franchise; for instance, chainsaw fighting, assisting down teammates, Horde mode, and lots more.
Some of the sequences are incredible, with the section spent inside the worm being worthy of particular praise. Even the multiplayer is standout, as is evident in the fact that later releases have always used this release (rather than the more recent ones) as a template. Gears of War 2 may be an impressive nine years old next year, but it looks and feels as if it could have been made last week.
What Next for the Gears of War Franchise
The Gears of War story deserves praise even just for making it this far. Not many franchises can capture imaginations for so long and continue to provide great gaming experiences. However, the slightly repetitive nature of Gears of War 4 suggests that things will have to change if it wants to remain a titan of the Xbox titles.