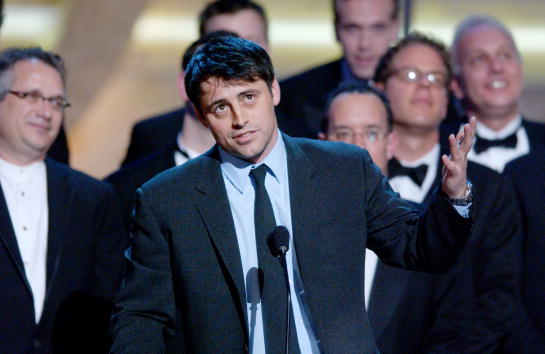 Joey Tribbiani was considered quite the ladies man on Friends. The guy who loved sandwiches and Hugsy, his bedtime penguin pal, dated more people than any other character throughout the show's ten-season run. This would make sense considering Monica and Chandler end up getting together at the conclusion of season four, Ross and Rachel dated seriously for part of season two and three, and Phoebe found her true love, Mike, by the ninth season. This does not mean that the other characters did not have their fair share of romance. Over the next several weeks we will be ranking the six main characters of Friends romantic relationships. This week we will take a look at Joey Tribbiani. Over the course of ten years, Joey dated two women that would dump him for another guy, a woman that likes to hit people, and have a brief romance with Rachel.
Laura, Season 10
Joey and Laura did not date during season 10 of Friends; however, this is the first time we hear about her. Laura visits Monica and Chandler's apartment to perform a home study to see if they would make fit adoptive parents and remembers coming to the building with Joey.  He is able to make Laura think she was the one who called things off with him.
Girlfriend Grade: F
Kate, Season 3
Joey never really dared Kate, but he wanted to for a good chunk of the third season of Friends. Joey and Kate were starring in a play together and would constantly bicker back and forth. All of the fighting would lead to a night of pleasure, but Kate would end up getting back together with the play's director. Once the awful play debuted and received a bad review, Kate once again found solace in Joey. She'd break his heart again and leave to star in General Hospital.
Girlfriend Grade: F
Kathy, Season 4
Kathy and Joey seemed like they would be a great couple when we were first introduced to her during the fourth season of Friends. However, their romance would quickly fade away when she fell head over heels for Chandler, who had been pining over her since the day they first met. Kathy would cheat on Joey and start to date Chandler. She quickly disappeared from the gang's lives when she would then cheat on Chandler.
Girlfriend Grade: D-
Haley, Season 9
You may not remember Hayley, as she only appeared in one episode during the ninth season of Friends. Joey starts dating her and believes that he has already been with her once before. When he goes to Hayley's apartment, he remembers sleeping with her and is mad that she has forgotten about their romantic trysts. It turns out that Joey was in a previous relationship with Hayley's roommate, who shows up during their date.
Girlfriend Grade: D
Kristen, Season 7
Kristen was dating Joey and Ross at the same time?! Talk about playing the field. Her date with Ross turned into he and Joey telling her weird things about their lives.
Girlfriend Grade: D
Melanie, Season 1
Melanie appeared in the season one finale of Friends. She was dating Joey while he was taking part in a fertility study. As a result, the two are never actually able to seal the deal. Instead, Joey must try to satisfy her needs without letting on that he is a part of the study. She is so thankful that she fills the guys' apartment with an assortment of fruit baskets, something she designs as part of her job.
Girlfriend Grade: D+
Jessica Lockhart, Season 7
Susan Sarandon guest-starred on Friends during the seventh season as Jessica Lockhart, a famous soap star on Days of Our Lives. Joey's Dr. Drake Ramoray would be inheriting Lockahart's character's brain as she is being written out of the show. While she teaches Joey how to act like her character, the two enter into a romantic relationship. It is cut short when she is offered a role in Mexico.
Girlfriend Grade: D+
Rachel, Season 9 and 10
There isn't much to say about this relationship that began to develop during the 8th season of Friends, but did not actually happen until the conclusion of the ninth season. The only good thing about it is that it did not drag on for that long into season 10. Rachel gets some bonus points because of how much we love her character!
Girlfriend Grade: C-
Charlie, Season 9
Charlie and Joey never made any sense. You could tell that she was better suited for Ross. The funny thing about this relationship is how closely it mirrors Joey's relationship with Kathy during the fourth season of Friends. The only difference is it involves Ross and not Chandler. Joey dates Charlie. She then dumps him for Ross and then she eventually dumps Ross for another guy.
Girlfriend Grade: C
Ursula, Season 1
Joey briefly dated Phoebe's sister Ursula during the first season of Friends. Their relationship would end rather quickly as Ursula would brush Joey off like she does with every guy that she dates. Phoebe pretends to be Ursula in order to give Joey a proper breakup and not leave him in the lurch.
Girlfriend Grade: C+
Janine, Season 6
Janine was one of the longest relationships that Joey has with anyone during the ten season of Friends. After Chandler moved out, Joey needed to find someone to help him pay the bills. That someone was Janine. Sadly, things turned awry rather quickly when Janine could not stand Chandler and Monica and forced Joey to pick between her or them.
Girlfriend Grade: B –
Erin, Season 7
At first Joey wanted nothing to do with Erin after their one night stand. However, Rachel ended up bonding with her over pancakes. She and Phoebe spent the day with Erin and talked Joey into dating her again. Joey fell hard for her and sadly Erin did not end up feeling the same way.
Girlfriend Grade: B
Erika Ford, Season 2
Erika Ford would not be a good girlfriend as she clearly as some issues. She thought that Dr. Drake Ramoray was a real person and that she was dating him and not Joey. She became a crazy stalker and even licked Joey's hand during a romantic dinner. Putting all the crazy aside, she would have made a great match for Joey.
Girlfriend Grade: B+
Katie, Season 5
Out of all of Joey's girlfriends on Friends, Katie was the best. She was cute and fun and appeared to be a great girl for Joey. He admitted to his friends how much he liked her. Of course, there is always one thing wrong with a person you are dating. In Katie's case, she punched everyone and it hurt. No one believed him until Rachel got punched by Katie too. If Joey would have been able to get her to stop punching him, they could have had a beautiful life together.
Girlfriend Grade: A
Which of Joey's girlfriends on Friends was your favorite? Let us know in the comments section below.
Photo by Vince Bucci/Getty Images