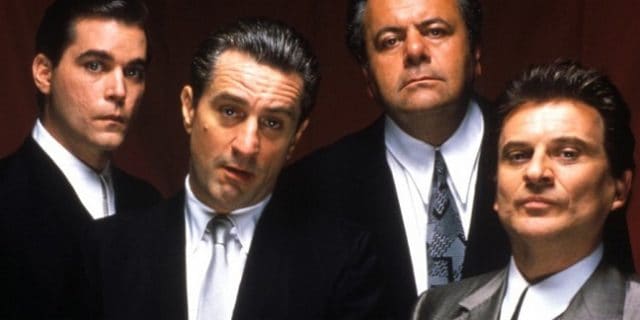 Few have enjoyed the high acclaim and success that director, producer, and film industry titan Martin Scorsese has. Scorsese is also important to the history of the cinema itself, being the founder of The Film Foundation and the World Cinema Foundation. While some make films, Scorsese has a knack for creating thought provoking works of art that manage to affect a wide range of movie goes. This is probably why he's earned so many Oscars and awards during his career.
By the looks of it, Scorsese's latest movie, Silence, is bound to become one of his best yet. The movie took the legend almost 30 years to make, and it's going to represent his genius at its finest. It's about two Jesuit priests who venture into a jungle in Japan to find their mentor and the troubles they face along the way. As we all wait for Silence's premiere on December 23, here's a ranking of the top ten Martin Scorsese films.
10. Gangs of New York (2002)
Gangs of New York is a very gritty film, and even the filming got down and dirty. That Leonardo DiCaprio actually broke the nose of Daniel Day Lewis while shooting a particular scene should tell you just what degree of passion everyone put behind their roles. The movie is set in the early 1950s in the Five Points district of NYC. When DiCaprio's character is released from prison he goes on a mission to get revenge against the man who killed his father, but to do so he has to make his way into the inner circle of a violent gang.
9. Shutter Island (2010)
Martin Scorsese doesn't really do horror films, but this one comes about as close as any of his movies have gotten. The psychological thriller has a crazy twist ending that left audiences stunned, which is part of why this movie is so highly acclaimed. As the plot starts, Leonardo DiCaprio stars as Teddy Daniels, a law enforcement officer on the trail of a murderer who's believed to be at an insane asylum. By the time the movie ends, you'll see that's not the reality of what's going on at all.
8. Casino (1995)
Robert De Niro did an amazing job as mobster Ace Rothstein in Casino, and the entire cast of characters gave commendable performances as well. This Martin Scorsese film won a ton of awards and accolades from critics, and anyone who likes crime boss movies will enjoy this one. The production of it is also second to none.
7. The King of Comedy (1982)
The thing that made The King of Comedy stand out so much when it premiered is how different it is from other films that Martin Scorsese had produced up to that point. To this day it's still much unlike the legendary filmmaker's other creations. It stars Robert De Niro as Rupert Pupkin, a guy who hosts his own fake talk show in his mom's basement. When he meets a real TV show host he does everything he can to get his big break into show business. The lengths that Pupkin goes to to obtain success are startling, and make this movie's plot quite unique.
6. Raging Bull (1980)
This is a Martin Scorsese classic that was highly popular at the box office when it debuted. It's a biographical film about middleweight boxer Jake LaMotta, who had an incredible temper that ultimately ended up destroying his family. The movie sees LaMotta attempting to overcome his inner demons while finding success in the ring, and the actors involved in the project — particularly Robert De Niro, who played the boxer — did a powerful job portraying the athlete's story.
5. The Aviator (2004)
The Aviator tells the story of Howard Hughes and his incredible life. This is definitely one of the finest films that Martin Scorsese ever made, and it delves into the side of a public figure that practically no one saw or even knew about. Leonardo DiCaprio plays Hughes, a man who is financially and professionally successful, but who battles personal torments, depression, and phobias behind closed doors.
4. Taxi Driver (1976)
Jodie Foster, Robert De Niro, and Cybill Shepherd all gave remarkable performances in this movie, and it's often ranked among critics as being one of Martin Scorsese's best. De Niro stars as taxi driver Travis Bickle, a man who develops an obsession with cleaning up the crime in New York's streets. While thinking of a plot to get rid of a corrupt presidential candidate he comes to learn about a child prostitute — a role famously played by Jodie Foster — and starts thinking about a plan to rescue her.
3. Mean Streets
This was Scorsese's first film that really got him into the spotlight and working with guys like De Niro and Harvey Keitel.  It was essentially all of Scorsese's gangster movies before they were gangster movies and on a much smaller budget.  The film was a little raw for my taste and not really the quality (because he couldn't afford it) of his other films but you have to respect that this is what made him a force in Hollywood.
2. The Departed (2006)
In this excellent Martin Scorsese film, a Boston cop goes on a mission undercover to get inside the operation of a gangland chief. The cop, played by Leonardo DiCaprio, gains the trust of mobster Frank Costello, played by Jack Nicholson. While that's going on a career criminal named Colin Sullivan, played by Matt Damon, has infiltrated the Boston police department. The whole situation brings about a world of danger and threatens the lives of all men involved.
1. Goodfellas (1990)
Who doesn't love this Martin Scorsese masterpiece? This is among one of the best films ever made in the history of cinema, and decades later it still manages to capture audiences. It's the penultimate mob movie that all other mob movies that came after it aspired to be, but none thus far have come close to its greatness. The acting is top notch, but the plot behind Goodfellas is what makes it so captivating.