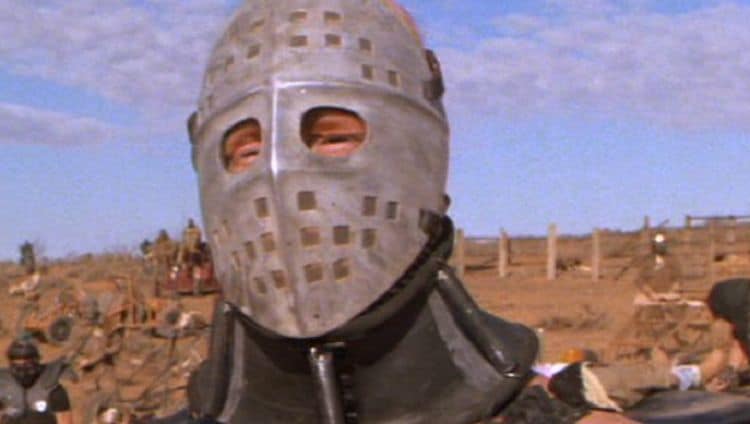 Mad Max is known for having a lot of over the top villains that are each worse than the next in some cases. Some of them are simple toadies that don't really rate in the top five since they're either too weak, too moronic, or simply don't have what it would take to survive on their own if not for being part of a larger group. Nux and the Warboys from the most recent Mad Max movie are so fierce in their loyalty that they are dangerous enough, but without a leader, they're essentially useless since their only goal is to go out in a blaze of glory. Apart from that, they're kind of useless. But others, such as Toecutter, still don't hold a candle to those on this list since whether a person wants to argue or not, those that made the list are dangerous for a couple of reasons at least given that they will and have gone megaton on those that stand against them. Plus, nearly all of them are able to inspire others to follow them in one way or another since they're seen as an example to be looked up to. Those that can rally others to their cause have a potential for danger as well as greatness, but in Mad Max, it's usually seen that the most persuasive individuals are out to do damage to those that won't bend to their will.
Here are a few of the top Mad Max villains.
5. Immortan Joe
There's a reason that he's at the bottom, and it's because he's the least physically imposing of the bunch since he's not really much of a fighter and has others do his dirty work for him. Joe might be imposing to those that can't fight, but in a one on one against someone that can do some damage it's pretty certain that he's going to lose, and while his brutish kid, Rictus Erectus, is a beast of a man, he's not all that bright and is, as a result, easy to write off as a threat since a few well-placed bullets could take him out of the equation. Joe is the leader without question and the only one among his group that can do anything or get people to follow him.
4. Ironbar Bassey
This guy was nearly impossible to kill since in Beyond Thunderdome he was tossed out of Aunty's loft, he was beaten over the head, he was tossed off of a train, and he finally met his end before the movie was over. He was tough, there's no doubt about it, but like pretty much everyone in Bartertown he was bound by Aunty's will since apart from Master and Blaster she was the authority and had the pull to get people killed, banished, or sent down to the underbelly of the town to provide the energy that so many sought to take advantage of for their own needs. Ironbar was a servant, but he was a tough one.
3. Aunty Entity
Beware those with silver tongues since they can convince the devil into setting himself on fire if they so desire. Aunty Entity was no different really since she knew how to use her words to get what she wanted and was pretty open about what she needed to be done, once Max survived the audition. The fact that she'd attempted this before made it clear that she didn't put a huge price tag on human life, and knew how to get to people. But once it was determined that she was at the mercy of Master and Blaster it was easy to think that she was a snake just waiting for the right moment to strike.
2. Lord Humungus
This guy was just nuts. It's likely that a lot of people expected him to lay into someone at some point since he looked like he'd just come from a Conan set, but all those muscles didn't really get used that much until he had to restrain a maddened Wez after the feral kid nearly chopped the top of his boyfriend's head off. He was definitely an imposing character, and the fact that he could launch a weapon from his car and hit someone several yards ahead of him was insane. But it was likely the fact that he never showed his face and that his people followed him without question that made him really dangerous.
1. Wez
If not for Lord Humungus it's definitely likely that this guy would have been in charge of the group, and that would have been so much worse since he was unhinged and wasn't the type of guy that would have stopped until the fort was completely overrun and everyone was dead. The fact that Humungus could restrain Wez was a blessing for his group since otherwise the warrior would have run riot on anyone that wronged him.
The talkers are dangerous, but the crazy ones aren't to be underestimated.