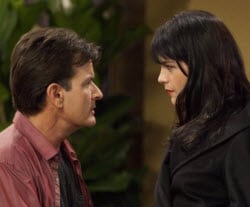 By now you've heard that Selma Blair has been fired from Anger Management for incurring the wrath of Charlie Sheen. The actress said he was terrible to work with, and when he found out, he promptly fired her, more than proving the point.
Now, he's trying to find a replacement. Word has it that he was going to pay Mila Kunis $1M an episode to join up, but something tells me she wasn't really thinking that was the best move for her career, so no motion on that front.
The new casting call for the part has gone out, and you can read it below via EW. Could it be you? Probably not, and remember, you'd have to work with Charlie Sheen, so you're not missing out on much.
In the listing from the show's casting director, the character is called "the new doctor" and doesn't have a name yet. The actress should be "gorgeous" and "sexy" (yes, both, not just one) and in her 30s or 40s. She is preferable Latina or Caucasian, between 5 and 5'6" (Sheen is 5′ 9"). She's further described as a "by-the-book psychiatrist" who joins Charlie to co-author the sex study research he and Kate (Blair) were working on before she left the show.
"If Charlie and Kate were like Sam and Diane on Cheers, then you are Rebecca," continues the description. "Tough, career driven, neurotic and you wear your heart on your sleeve….and you hate yourself for eventually becoming attracted to Charlie."
So, you pretty much have to be really hot, out of your 20s and not taller than Charlie. That really narrows it down.
Do you have what it takes to possible have a love scene with Charlie Sheen? Apply now!