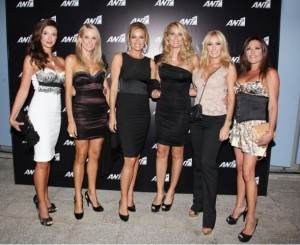 We knew it wasn't going to be long before Bravo's Real Housewives franchise went global, but we didn't expect there to be an opposition like the one we've come across against the series.
MSN Philippines News reports that the first international extension of the Real Housewives brand, The Real Housewives of Athens, has ruffled the feathers of TV critics in Greece for the display of opulent spending and excess lifestyles in light of the recent economic crisis that hit the country.
"One wonders if the broadcasters realise that there are around a million unemployed in Greece at the moment," a newspaper named Ta Nea declared. "With the economic crisis…a reality show on lavishness and consumerism seems unlikely to catch on."
The six women involved with this installment are ex models (and current TV presenters) Ioanna Soulioti and Annita Nathanail; ex-basketball player Orthoula Papadakou; fashion designer Joe Togu; actress Christina Papa; and stay at home mom Fofi Mastrokosta. Various newspapers from across the region have voiced their opinions on how the women's luxurious way of life was a sad representation on the current state of events in the country, with unemployment rates up and plenty of people out of work as a basis for their argument.
Here in America, the excess spending of New Jersey Housewife Teresa Giudice has brought a lot of ire from fans during the economic crisis, but other Housewives, such as Orange County's Alexis Bellino weren't as ostracized for spending above their means as the Giudice family was. While the Greek critics have a valid reason for their dislike of The Real Housewives representing their country/city at the moment, is it really all that bad? Besides, at least these women actually have money to spend…
Thoughts?
Source: MSN Phillipinnes