Well after the Lost Footage episode of The Real Housewives of Beverly Hills, you would've thought that we wouldn't see any "new" episodes till this fall, because they couldn't possibly have anything else to show, right? For those of you who thought that innocent, naive thought, I have one thing to say:
Never understimate the power of a Bravo ratings giant or Andy Cohen's marketing genius.
Tonight's final (and we're serious this time) episode of the the divas of Beverly Hills first season was an extended edition of the infamous "Dinner Party From Hell" episode that is quite possibly the most talked about episode of the season. Like the extended episode of the Real Housewives of New Jersey's finale, which was called "The Last Supper," this edition gave us new interviews with the ladies, an extended cut of the entire dinner, and more crazy from the mouth of Allison DuBois. We also got more commentaty from Lisa VanderPump, which was basically a Valentine's Day gift that I will cherish for the rest of this year.
Tonight's episode can be seen as something else other than a final milking of a cash cow. It could also be seen as Andy Cohen's big F— You to Allison DuBois. The intro and the final credits were all dedicated to DuBois, or rather skewing DuBois, because we all know Cohen did not take kindly to DuBois's claims of Bravo editing her badly. In fact, I bet Cohen ordered for this extended episode to be made to show just how bat-crap crazy DuBois really is. Moral to this story? Do NOT Cross Andy Cohen, People!!! It's just not wise.
Also, the episode featured interviews from Faye Resnick, who blends in perfectly with the cast. If I didn't know any better, I would peg Faye's interviews as a mini-audition to join the cast next season. She would fit right in with the drama and would be a greater foil to Camille, since Faye claimed to know all about Camille's sordid past of softcore porn and erotic dancing days. Cohen, get that woman a contract, please!
But besides the new scenes and interviews, there was nothing new. If you saw the episode, then you basically know the story.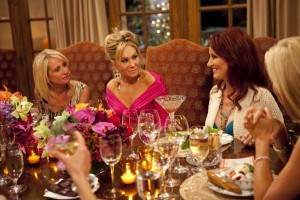 However, there were a slew of new quotables that must be documented and I'm proud and honored to be the one providing those quotables for you.
"Bet Allison didn't see this coming…" – Andy Cohen in a voiceover in the introduction of the episode.
"I also felt that I wanted to buy her a new cardigan." – Lisa on Allison's wardrobe selection of that day.
"Oops! It's been cancelled!" – Lisa on the cancellation of Medium.
"I felt like I was walking into the lions' den… Camille asked Allison and D.D. to come in for the kill…" – Faye on what she felt about entering Camille's house.
"Allison was knocking back the witches' brew!" Lisa on Allison downing the tubs of alcohol as if it were Kool-Aid.
"If she was so psychic, why didn't she see what Kelsey was doing to Camille as we sat there?" – Taylor asking the million dollar question since the show aired of Allison's validity.
"Well, of course people are catty with Camille, otherwise you cannot be around her." – Faye on Camille's comment on women are always catty around her.
"I was surpised that Taylor stepped up. I wish she could do that a little bit more with her husband. That kind of conviction would be great in her marriage." – Adrienne speaking truth on Taylor's marriage.
Also, there was a ton of new craziness spilling out of Allison DuBois's mouth and it would take five to ten different posts to compile the atrocities and make sense of them. But Bravo did say that she was asked to come and do an interview like Faye was given, but DuBois declined. "Politely" according to Bravo. At least she was given a chance.
So that was the end (for real this time) of the Real Housewives of Beverly Hills first season. See you guys this fall, but until then, let your voices be heard below! Was there a quote I left out? An observation you want to elaborate on? Speak on it!