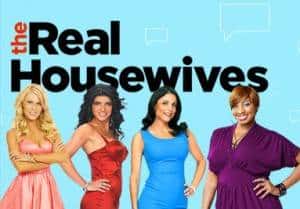 A few positive tidbits in the Real Housewives pool today, which is a feat after all the firing, departures, and money woes for the women as of late.
'Atlanta' Is Around The Corner
Bleu Magazine spoke with The Real Housewives of Atlanta's Kandi Burruss about the upcoming season, where Kandi states that it will be bigger and more "personal" this go round for all the ladies.
"The new season starts October 4th and this season you'll see a lot of everybody's real personal issues," Kandi revealed to Bleu. "I'm sure you've read and see everything NeNe's been through and she definitely let people in. You'll also get to see how me and Kim's dynamics have changed."
Does that mean that Kim doesn't have Kandi as a shield anymore? If so then what does this say about Kim's loyalty? Oh, well. It is good to note that Kandi didn't get a dime from "Tardy For The Party." All proceeds went to Kim, plus the two women have recorded another song together.
Kandi went on to say that this season will comprise of 18 episodes since they filmed five t0 seven days a week, which means the ATL housewives will be must see TV for awhile. Fans, rejoice in this news!
Bravo Clubhouse
D.C.'s Cat Ommanney and NYC's Ramona Singer showed up on Bravo's Watch What Happens Live! last night with Andy Cohen and together, the two ladies are a force to be reckoned with. Some of the highlights from last night's show include Turtle Time with Ramona, Cat's 'dodging' of the question if she has ever swam in the '"lady pond", and Ramona's reaction to a question asking what would she do if Danielle Staub joined the Real Housewives of New York. I think Cat and Ramona could give each other a run for their money since, as Andy Cohen said last night, they are both very opinionated and outspoken individuals. Hell, I would even go as far as saying that Cat is on the wrong spinoff, an should relocate to New York, pronto. In other related news, am I the only one who is glad that Watch What Happens Live! is back? Anyone?
'Housewives' in Syndication
This week marked the beginning of the first three Real Housewives series (OC, New York, and Atlanta, respectively) being syndicated in daytime across the nation. The only set back to this new venture is how the three shows are being packaged/aired, which consists of the name only being The Real Housewives of… with Orange County airing it's five seasons first, then New York will air their three seasons afterwards, with Atlanta airing their two seasons last. The cycle will then continue with RHOC and so forth. The problem with this scheduling is clearly the fan factor of the Real Housewives franchise, which is sporadic at best. You have RHOC only fans, RHONY only fans, and RHOA only fans, with some of those viewers either never venturing into or, to some extremes, loathing the other casts/shows to care to tune in. So, why bother airing and packaging them all under one big Real Housewives umbrella? If Law & Order and CSI can air their respective shows in different markets at different times, then why not the Real Housewives? Just saying…
Danielle Does Charity
Ex New Jersey Housewife Danielle Staub showed up at the Strengthen Our Sisters charity event held at Boxers NYC. New York blogger and actor Neal B. got a chance to speak with Ms. Staub and talked about what the future holds for her as well as her own experiences with domestic violence. I actually don't have anything to say about Danielle here (she was pretty damn tolerable), but thanks to Neal B. for that news bit!
The Salahis' Get Gunned…
Okay, so I lied about all this news being positive, but I promise I tried to go that route before this piece of RHODC news hit my lap. Of course, it's Salahi related, but it's something I think a lot of you want to see.
Tim Gunn, everyone's go to person on Project Runway and beyond, was on Access Hollywood where he voiced his opinion on the whole mess the Salahis have gotten themselves into, calling them "sociopaths." Although, that line in itself is kind of funny, it's not the laugh out loud moment of the day. As Tim Gunn blasted them, the Salahis were in the studio and heard Tim's entire rant. And Tim's response? He could care less. Wow. Check it out!
Damn! Thanks to Jennifer Sale for directing me to this!
Okay, now, who wants to make a wager that we will not survive the weekend without related news breaking all over the place? If we do, my fingers would be thankful. I swear they would.