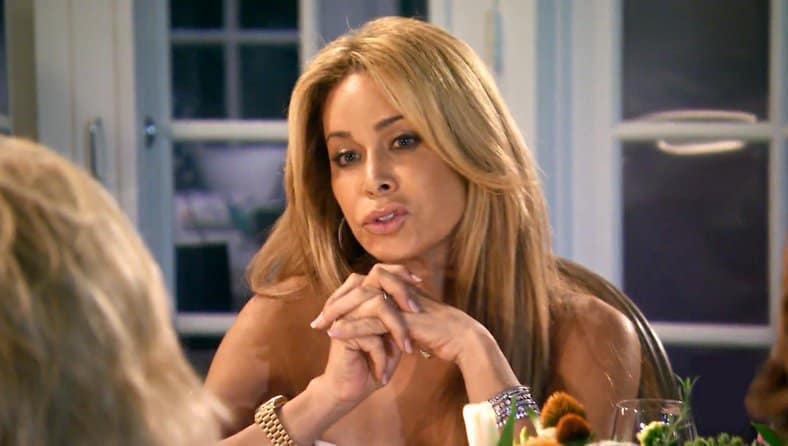 We knew that drama was going to be heavy on Real Housewives of Beverly Hills this week because this was the week that Kathryn Edwards and Faye Resnick met face-to-face.  Give that they've had a 20-year fed over the O.J. Simpson murder scandal it was easy to figure out that sparks would be flying.  Turns out that Kathryn open admits to holding the 20-year grudge against Faye.  Why?  Because Kathryn heard that Fay claimed that then fiancé  Marcus Allen had an affair with Nicole Simpson.
Kathryn was upset because the book that came out portrayed Kathryn as the kind of woman who turns a blind eye to adultery.  But we're here to tell you exactly what Faye wrote about Kathryn because Bravo has the actual clip.  Read this one for yourself and tell us what you think.
Then she came to the other names she so desperately did not want to reveal. Finally, Nicole admitted her affair with Marcus Allen. She quickly told OJ that she'd only let him "play" with her. She didn't admit to actual intercourse. OJ exploded. He turned on her like a man possessed. Nicole told me OJ threatened her, saying "If you're ever with Marcus again, I'll…I don't know what I'll do, but it will be bad. I won't be able to control myself." He wouldn't let it end. It held up the reconciliation attempt for months. At times we were worried that OJ might take revenge on Marcus by telling his fiancée Kathryn about the affair with Nicole. That would have been a disaster, because Kathryn was a sweet woman who was well aware of Marcus' womanizing and might have felt she had to call off the wedding. OJ did not do that, but he did confront Marcus. No one knows exactly what was said, but it ended up with him swearing to OJ that he would never touch Nicole again. Marcus said it wouldn't be a problem anymore, because he was getting married.
Later in the book, Faye writes that before anything had started up between Marcus and Nicole, Marcus had his sights set on Faye. Faye called their mutual friend Kris Jenner for advice.
Kris, I don't know what to think about this. I know Marcus Allen has been trying to get my phone number, and Nicole wants me to go out with him to the Monkey Bar. I like Marcus but not in that way. On the other hand, I'd like to keep him as a friend, because he is a friend of Nicole's. What do you think?" Kris said, "Whatever you do, don't go out with Marcus Allen. He's the biggest womanizer in the world and don't forget he's engaged to Kathryn. She turns a blind eye to his fooling around, but it hurts her when he does it publicly.
Did you watch last night's episode?  And if you haven't seen it yet, here's some unseen moments of the housewives on Hoverboards!