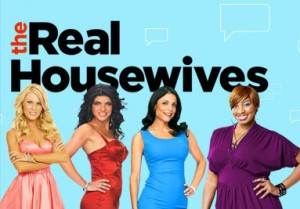 Yesterday brought us a huge barage of Real Housewives news and updates, so I kindly waited until all the hoopla died down before I could get all the facts straight. Now let's jet set across the country and see what Bravo's Real Housewives have been up to.
New York
– First and foremost, Bethenny Frankel has left the cast of The Real Housewives of New York. " [I] don't see any reason to go back," she told US Weekly exclusively. "Last season was scary and painful. It took all the joy out of it." However, Bethenny will still make appearances on the show (for contractual reasons), which was finally renewed for a fourth season today. Bethenny will return to a second season of her popular spin-off, Bethenny Getting Married (which I think should be changed to something else since she tied the knot, but alas).
– In other news, Ramona Singer was spotted having drinks with Atlanta Housewife NeNe Leakes in NYC, according to People magazine. The mag even reported the drinks the ladies had, but did we really have to guess that Ramona had Pinot Grigio as her white wine of choice?
New Jersey
– As if we didn't know this was going to happen… After World War III with Heels commenced on Monday's Real Housewives of New Jersey Season Two Reunion (my commentary, here), the show racked in 3.9 million viewers, making it the most watched episode of The Real Housewives ever to air on Bravo. Of course, a renewal for a third season wasn't far behind, but with reports that three of the four remaining NJ Housewives were asked back after the taping of the reunion (Danielle Staub allegedly got shafted), one has to wonder if the renewal was inevitable anyway. If Bravo didn't renew the show, it would have been the equivalent of ABC not asking LOST back after it's first season, IMHO. Moving on…
Orange County
– Alexis Bellino, the latest addition to the Real Housewives of Orange County, and her family have avoided losing their $4.56Â million dollar home to foreclosure thanks to a loan modification from Chase Bank. Alexis and her husband Jim failed to pay more than $83,000 on their home, which was scheduled to be sold on Aug 25th and is now worth under $4 million. This makes Alexis the third O.C. Housewife to endure foreclosure woes, with Tamra Barney and Jeana Keough both having to either short sale (Tamra) or get a loan modification (Jeanna) as well. Did I mention that the latter two are real estate agents? I'm not an expert in the field, but isn't that kind of odd? Thanks to the Orange County Register and Wall Street Journal on this story.
Washington, D.C.
– Charles Ommaney, the former husband of D.C. Housewife Cat Ommaney, has told The New York Times that he regrets participating in the show, because of the tarnish it has added to his image in the eyes of D.C.'s elite, where he was a respected White House photographer. When asked if he has seen any footage of the show, Charles claimed that he hasn't, because it is "too painful". He adds, "I have very few regrets in my life, but this is the one." Ouch. The rest of the interview is a very interesting read, but it makes it sound as if Charles is a victim or fallen star, which rubs me the wrong way a little. The reason being could take all day, so let's move on.
Lastly, Andy Cohen talked with LATimes' Matt Donnelly about the New Jersey reunion, Top Chef's big Emmy win, and being called "Raggedy Andy" after Teresa practically body slammed him on the reunion. He also talked about a moment that happens in Part 2 of the reunion, which has not been shown in the promotions that is sure to have us picking our jaws off the ground. Dammit, Andy! You TEASE!
Okay! Thoughts? Comments? Hit me up!