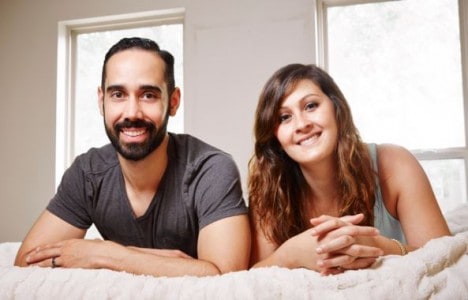 The entire concept of walking down the aisle and marrying someone that experts tell you that you're compatible with without ever meeting him or her in real life is a bit crazy to, well, most everyone. However, the couples on Married at First Sight did just that. They allowed relationship experts to come together and find them a perfect match, set them up with a wedding and didn't allow them to meet until they walked down the aisle. Sounds like the perfect match made anywhere but Heaven, and this show is really showing us why it's probably not a good idea to allow yourself to become involved in an arranged marriage. Sam and Neil got married this season, and things are not going well for them — and we have a few reasons why we think they will never make it.
Neil Wore a Onesie to Bed
Um, there's nothing cute about a onesie unless it's on a baby. And because of this, there will be no babies in the making around here. Not sexy, not attractive, and not something that did it for Samantha Role, Neil Bowlus' new wife.
Sam is Not Attracted to Neil
One of the things that helps with a marriage is being attracted to your partner. When you are not, it says a lot. Sure, you might not be attracted to someone physically at first, but sometimes it happens easily once you get to know them. Nope; not for these two.
Sam Is Struggling
She said it outright; she does not find Neil attractive at all. She thought she might not find her new husband that attractive, but that she would find something attractive about him to deal with in her new marriage. She says she cannot find anything attractive about him, so that sounds a bit like a deal breaker to us.
They're Both from Divorced Families
Now, we are not saying that children of divorced couples are doomed. My husband's parents have been divorced two and three times, respectively. We've been married 11 years and together 14 and we have never been happier and more excited about our lives together. However, these two don't like one another much, they aren't attracted to one another and they're probably leaning on the understanding that their parents won't be too upset if they decide to annul this marriage.
Neil Believes in Arranged Marriage
The fact that a 30-something believes in arranged marriage to begin with makes us believe that this is a marriage that will never work. After all, what happens if they have daughters one day and he wants to pick their husband from a crowd for her, and Sam says no?
Check out a preview of tonight's episode!
This clip has us wondering…"Is it #MarriedAtFirstSightTuesday yet?"

Posted by Married At First Sight on Sunday, February 7, 2016
Married at First Site airs on FYI on Tuesdays
Photo Credit – A&E