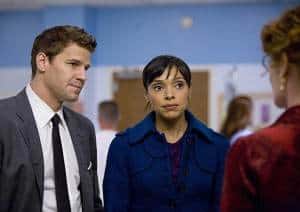 This week's episode, titled "Bones and Booth Go to the Zoo" contains adult language and profanity. The adult language belongs to the show. The profanity is mine from having to sit through it.
One day, Hansel and Gretel went driving through the forest, er, Rock Creek Wildlife Park, in their Reptile House vehicle when they stumbled across a mostly-skinless, mainly masticated corpse in the tiger enclosure. A tiger is still chowing down on a human drumstick.
Our heroes arrive seconds later. Booth is playing "Pinky Stumps the Brain" with his giraffe facts. Oh my God, he's channeling Wiki! Bones determines that the tiger ate the flesh and internal organs first and left the skeleton till the ends so he could pick his teeth with the bones. Those darn tendons do get stuck between one's teeth. Meanwhile, back at the lab, our intern of the week is… drum roll please… Mr. Clark Edison! Clark-baby, long time, no see. He's only returned because Cam has promised him a purely professional work environment. Yeah, good luck with that one, babe.
Despite Clark-baby's utter dislike for personal information at work, he immediately gets on his "zoos are animal prisons" soapbox, nearly drowning out Hodgins's discovery of a shoelace in the wound and Cam's notation that the victim was not killed by the tiger – he was cut and bled out.
Since they are down to the bone, Angela is brought in for facial reconstruction. It's immediately announced (for the audience's benefit) that she is now celibate on Sweets' recommendation that she learn how to have a non-sexual relationship. How's it going, you ask? She immediately hits on Clark like a submariner on shore leave. "Clark, welcome back!" – hey, I already said that – "you look HAWT!" (She totally spelled it that way in her head.) Clark tells the horny woman to back off. Angela gets the message but tells him he is still squeezable. What, like a ketchup bottle?
Anyway, there are other fish in the sea for our chaste friend. The victim's dental records pop up an ID. He is Dr. Andrew Welton. Angela totally digs him – the photo, not the body. He's handsome. Smokin' hot, even. She only stops there because Cam blurts out that Andrew was her ex-lover. Awkward!