Chuck's Place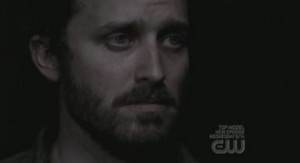 Dean and Sam go to Chuck's to check in with Castiel and get the news that their angelic ally is toast, taken out by the archangel. Chuck describes Castiel's demise as a 'Water balloon of chunky soup'exploding, and the description is punctuated grimly by the discovery of one of Cass's molars in Chuck's hair. Ouch.
Zachariah turns up to summon Dean to join them, Dean quickly tells him to 'Cram it with walnuts, ugly,'with the required amount of patented Dean bravado. Zachariah tells them that they need to act quickly, while Lucifer is still in spirit form. Once Lucifer has reached his vassal, he will become far more dangerous to everyone involved.
Zach continues to deliver his polished Angel-Mafioso shtick, but it turns out Dean was prepared for him and uses one of Castiel's banishing symbols to send Zach and his henchmen away, for now.
Generic Seedy Hotel
Sam and Dean retreat to one of Supernatural's trademark seedy hotel sets, complete with divider — all Supernatural hotels MUST have a divider — to try to figure things out.
Sam gives Dean a Hex Bag. How did he learn to make Hex Bags? From Ruby, of course. And Sam's demon blood addiction? Seems whatever force teleported them from the brink of Lucifer's ethereal back door to the plane also wiped away his '˜addiction'to Demon blood. Personally, I think that is baloney — but a good enough trick to set this aside for a future episode.
As for the complex matter of how they are going to take down Lucifer, Dean suggests they approach it as they would any other hunt, and they set about comparing notes on the devil.