Meet Mr. Splitfoot in Waiting
We get a look at Lucifer's intended vessel in the form of actor Mark Pelligrino, playing the human character of Nick at this point. He arrives home and there are various clichés of supernatural presence — sudden winds, slamming gates, slithering shadows — as Nick enters his home, uneasy.
We catch up with him in bed, he awakens to blood all over him and sees a woman laying next to him, also covered with blood. He gets out of bed and the blood disappears, all an illusion.
We Fanboys and Girls Are a Strange Lot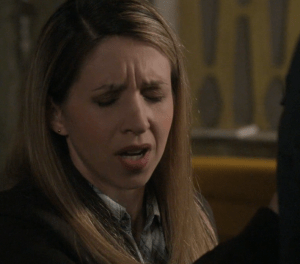 And Eric Kripke is showing his awareness of it here in a very apt and humorous way. Meet Becky, AKA SamLicker81 — webmistress of the literary-Supernatural (Chuck's series of books) fansite MoreThanBrothers.net. Yes, Supernatural continues its tradition and introduces a real website. Just visit it, quite strange.
Becky is hard at work on a fanfic. Not just any fanfic, though. This is slash fiction — that genre of fanfic where two characters have a homosexual relatonship, in this case… Sam and Dean, but you probably saw that coming — whether you will admit it or not. Chuck gets a hold of her and sends her on a mission to the real Sam and Dean.
When Becky gets to the hotel room, it's classic Supernatural comedy. Becky cannot stop fondling Sam's firmness as she delivers the message that the '˜Michael Sword'is in a castle on a hill made of 42 dogs. That's right, 42 dogs. Nobody knows what the hell it means, but Becky cannot get enough of Sam's chest.