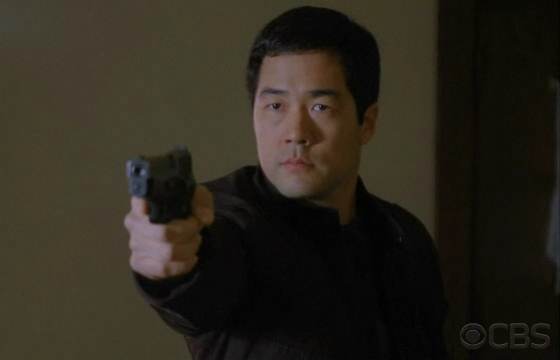 The Mentalist episode, "Blood In, Blood Out" begins with the flip of a coin. Jane has flipped a quarter 20 times, and each time its landed heads. Rigsby is forced to pay up $20, and is frustrated when Jane won't give up the secret of his skill.
Lisbon notices a woman at Cho's desk, who turns out to be his girlfriend, Elise. Lisbon and Rigsby happily introduce themselves, and then Elise asks about Jane. She's startled when Jane shouts "Over here!" from the couch. Elise says hello, then whispers to Lisbon that she thought he'd look scarier. "He's resting," Lisbon answers.
Cho comes in and Rigsby tells him they were about to get to the embarrassing questions. "And that's why were leaving," Cho replies. When Cho's phone rings, Elise tells him she'll meet him at the elevator.
The call is from a Detective Sharon Florey, from the Oakland PD homicide division. Cho thinks she wants CBI help, until she informs him they have a victim with Cho's number on his phone. When Cho hears the description of the Asian gangbanger, he tells her he'll be right over.
Jane knows something is up when Cho bails on a date to go visit a crime scene. Cho declines his offer of help, but when Cho arrives on the scene, Jane is with him. Det. Florey tells them the victim was shot three times in the back, but it didn't appear to be a robbery. He still had his phone, money, and a slip of paper with numbers on it. Jane takes a look at it after Cho.
There's a tiny blip in Cho's stoic demeanor when he uncovers the body. He tells Florey that the man is David Seung, a member of Cho's old gang, the Avon Park Playboys. He adds that the only next-of-kin is Seung's grandmother.When Florey asks what Seung's been up to, Cho replies that he hasn't seen him in 13 years. He says the phone calls were Seung leaving messages, asking for help. Jane is surprised that Cho didn't reply. Florey tells Cho they're "good", and he quickly leaves.
Not deterred, Jane questions Cho as they walk to the car, wondering if Cho and Seung were friends. "We were best friends," Cho replies numbly. "He was like my brother."
The next day, Cho walks into the CBI office to find Rigsby still trying to figure out how Jane flipped the quarter heads so many times. "You're not getting enough sex from Van Pelt," Cho says. Rigsby jumps up. "We don't talk about that," he insists tersely.
Just then an older Asian woman enters the office. She calls Cho by his first name, Kimball. It's Seung's grandmother. She tells Cho that while Seung was in prison for 12 years, she told him about Cho life changes, and that Seung looked up to Cho as a role model. She claims that he left the gang, and that he wouldn't lie to her about that. Cho tells her that he knows Seung lied to her many times. When she begs him to help find the killer, Cho refuses, saying the Oakland PD will take care of it.