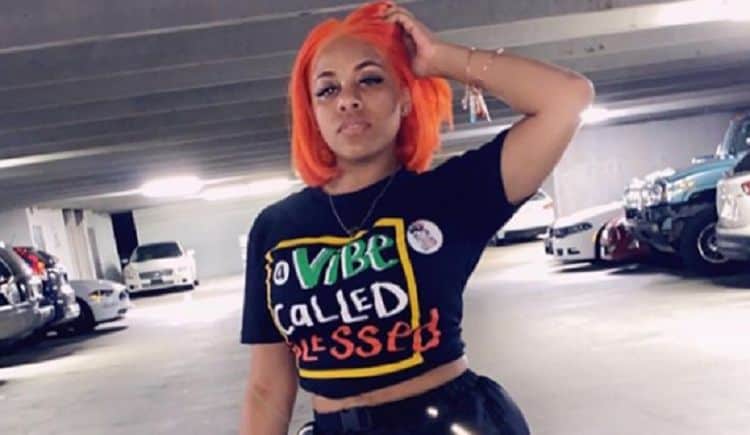 Eric 'Eazy-E' Wright was only was only 30-years-old when he passed away, but he already had 11 children. One of his kids, ReeMarkable, is hoping to follow in her father's legendary footsteps. As a rapper herself, Ree has been working hard to build her own legacy and show the world that she's just as talented as her father was. Although she hasn't released any full-length projects yet, she is constantly working on new music and has been pushing to get her name out there. Unfortunately, her journey hasn't always been smooth, but she has refused to give up no matter how many obstacles have been thrown in her path. Keep reading for 10 things you didn't know about ReeMarkable.
1. She's From Georgia
Eazy-E is one of the most influential rappers in west coast rap history. Surprisingly though, his daughter isn't from the west coast at all. ReeMarkable was born and raised in Georgia. However, she did spend a good chunk of her childhood moving around to different areas.
2. She's Been On Reality TV
ReeMarkable isn't exactly a reality TV star, but she has been on reality TV. She appeared in the show Growing Up Hip Hop: Atlanta in 2019. Most of her storyline focused on her music carer and how she was trying to get things set in motion. There's no word on whether or not she will appear on the next season.
3. She's A Mom
Since ReeMarkable's story line on the show was focused more on her career than her personal life, viewers didn't really get to learn much about her outside of her music. However, she is also a mother to an adorable little boy named Cobe. Being a mom appears to be her greatest joy. Her son is heavily involved in local sports and also has his own eCommerce shop where he sells sea moss.
4. She Was Homeless
Being the daughter of a legendary rapper doesn't mean that things have always been easy for ReeMarkable. In fact, she was only about three-years-old when her father died and didn't even know always know that Eazy-E was her father. She spent some time in the foster care system and struggled a lot throughout her life and even went through a period of homelessness.
5. Her Stage Name Was Inspired By Her First Name
ReeMarkable is a pretty clever stage name, and it was actually inspired by her legal first name which is Henree. However, according to a message board on Lipstick Alley, ReeMarkable's first name was originally Andree as she was initially named after another man who was thought to be her father. The discussion board also says that her last name was Willis until she found out that Eazy-E was her father.
6. She Practices Islam
Faith is an important part of many people's lives, and ReeMarkable is one of those people. In late May, ReeMarkable posted several photos of she and her son celebrating the Islamic holiday, Eid Mubarak. It's unclear whether or not she was raised in the Islamic faith or if she converted later in life.
7. She's Attended Protests Against Police Brutality
In the wake of George Floyd's murder, people all over the world have been protesting against police brutality and racial injustice. Celebrities and social media influencers have also been using their platforms to speak out and share information and resources. ReeMarkable has joined in on this and has made several posts showing her support for the fight against police brutality. She has also attended local protests.
8. Tupac Is Her Dream Collaborator
Every artist has at least one person they wish they could collaborate with. For ReeMarkable, that person is Tupac Shakur. Like Eazy-E, Tupac is one of the most well-known and well-respected rappers to ever come from the west coast. Although she was just a child when he passed away, his music has greatly influenced her and she wishes she could've gotten the chance to work with him.
9. She Used To Sing In A Church Choir
Ironically, it wasn't ReeMarkabe's father's legacy that inspired her to get into music. Her maternal great-grandmother was the first person to really help her develop an interest in music. She encouraged ReeMarkable to start singing in the church choir which is where she initially starting honing her musical skills.
10. She Wrote Her First Song At Eight
ReeMarkable has loved expressing herself through music since she first discovered her love for the craft. She wrote her first song when she was eight. She has been working on her writing skills ever since and says that she is constantly looking for ways to improve.