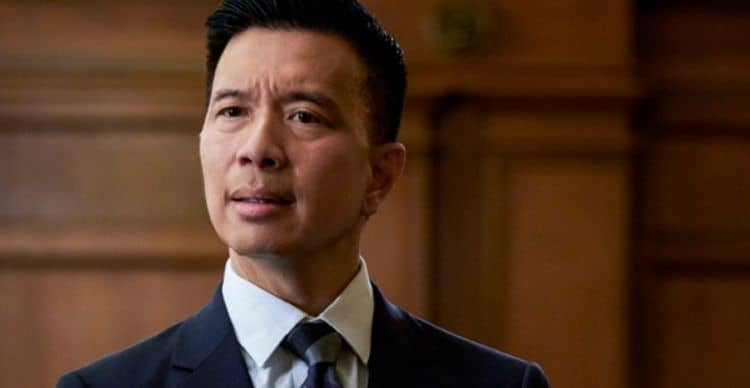 Reggie Lee has been a fixture in the entertainment industry for more than 25 years. Whether working on the big screen or the small screen, Reggie can always be trusted to give an amazing performance. Over the course of his career, he has become well-known for his roles as law enforcement officers. He is probably most famous for his role as Sgt. Drew Wu in the series Grimm. But don't be fooled into thinking that Reggie is the type of actor who can only play one kind of character, He is a multidimensional star who has the ability to step up to the plate to take on any role. Keep reading for 10 things you didn't know about Reggie Lee.
1. A TV Movie Sparked His Interest In Acting
Like many other successful actors, Reggie has early memories of falling in love with acting. Reggie once said, "When I was about 10, I saw Timothy Bottoms in a tele-movie called A Shining Season, and it really moved me. I was maybe 8 or 9. Timothy played a runner who had cancer, and he defied the odds by coaching a girls' team to victory."
2. His Last Name Isn't Actually Lee
For years, Reggie has been known professionally as Reggie Lee, but what many people don't know is that Lee isn't really his last name. Reggie was born Reggie Valdez but started using the last name Lee (his grandparents' last name)  in 2001 because the last name Valdez caused casting teams to think he was Hispanic.
3. He Was In A Video Game
Reggie's live action work is undoubtedly what he is best-known for, but he's also a talented voice actor. He voiced the character of Tai Haung in the 2007 video game Pirates of the Caribbean: At World's End. He has also done voice work for the animated series American Dad!
4. He's Been On Broadway
Being an on screen actor definitely has its perks, but many actors believe that nothing can quite compare to the feeling of being on stage. Reggie has gotten lots of theater experience throughout his career and made his Broadway debut in the 1994 revival of Carousel.
5. He Was Born In The Philippines
Reggie has lived in the United States for most of his life, but he was born in the Philippines. After relocating to the US, his family settled in Ohio which is where he initially got into acting. He ultimately decided to move to Los Angeles when he became serious about pursuing acting.
6. His Parents Wanted Him To Be A Doctor
Being an actor was never something that Reggie's parents envisioned for him. Instead, they hoped that he would follow a more traditional path and become a doctor. Despite his parents' wishes, Reggie knew that pursuing a medical career wouldn't make him happy and he decided to follow his heart instead.
7. He Was A Dancer For Prince
Outside of acting, Reggie has had lots of cool experiences, and one of them was a professional dancing career. During the 90s, he even got the chance to perform with the legendary musician Prince at the MTV Video Music Awards. When talking about the experience in an interview with Broadway World, Reggie said "Prince would come to rehearsals dressed as he does for a performance. Completely color-coordinated. Always so fashionable. I remember they wanted to pay the dancers less because it was a large group. And he fought for us to get the pay we deserved."
8. His Brothers Also Work In The Entertainment Industry
Not only did Reggie not fulfill his parents' wishes by becoming a doctor, but his brothers also decided to take more nontraditional career paths. One of his brothers, Nathan, is a musician and his other brother, R.V. Valdez is a comic book artist. R.V. is best-known for his work on The Legend of Isis comic book series.
9. He Loves Spending Time In Nature
Reggie truly loves what he does and he spends a lot of time working, but like anyone else he appreciates his time off. He is an outdoors kind of guy and he loves spending time doing things like going hiking, exploring walking trails, and hanging out by the water.
10. He Was Accepted To Harvard
Reggie is a very smart person who had the chance to get an ivy league education at Harvard University. Although he was accepted to the prestigious university, he decided to turn down the opportunity and move to Los Angeles to become an actor. The decision was incredibly risky at the time, but things have definitely worked out in his favor.