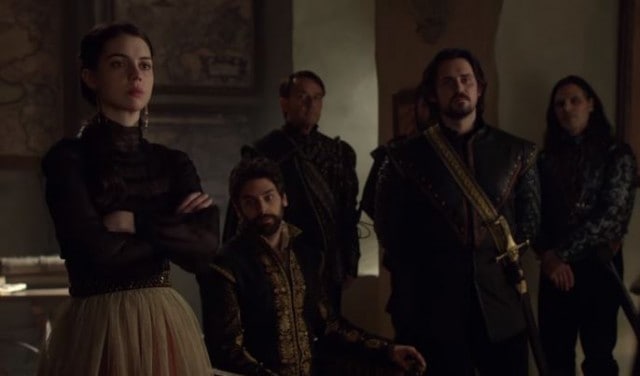 Reign Season 3 was touted to be "The Year of the Three Queens," with Mary, Catherine, and Elizabeth battling for power, and even though Catherine has (for the most part) aligned herself with Mary after Francis' death, Elizabeth is still attempting to cause problems for the Queen of Scots. For evidence, look no further than the sneak peek below from tonight's all-new episode of Reign, titled "Wedlock."
In the clip, Mary begins to share her ideas for her and Don Carlos' wedding and where they will go afterwards. However, before she can officially establish these plans, a marriage proposal from Elizabeth is extended, which could prevent Mary from wedding Don Carlos and stop any type of union between Scotland and Spain. How will Mary overcome this? We'll have to see how it all unfolds in tonight's episode.
Reign will air two more episodes, tonight and next Friday, at 8 p.m. on The CW before beginning its extended hiatus. Check out the clip from "Wedlock" below:
MARY AND ELIZABETH FIND THEMSELVES IN DIRE SITUATIONS — Mary (Adelaide Kane) becomes suspicious of Prince Don Carlos' (guest star Mark Ghanimé) true condition and relies on Gideon (Ben Geurens) to help her uncover the truth. Elizabeth (Rachel Skarsten) makes a shocking discovery which could change the course of her reign over England and forces Dudley (Charlie Carrick) to make a tough decision. Meanwhile, Narcisse (Craig Parker) forces Claude (Rose Williams) to marry someone of his choosing, against her wishes. Megan Follows, Anna Popplewell, Torrance Coombs, Celina Sinden and Jonathan Keltz also star. Norma Bailey directed the episode written by Wendy Riss and Drew Lindo.
[Photo via YouTube]