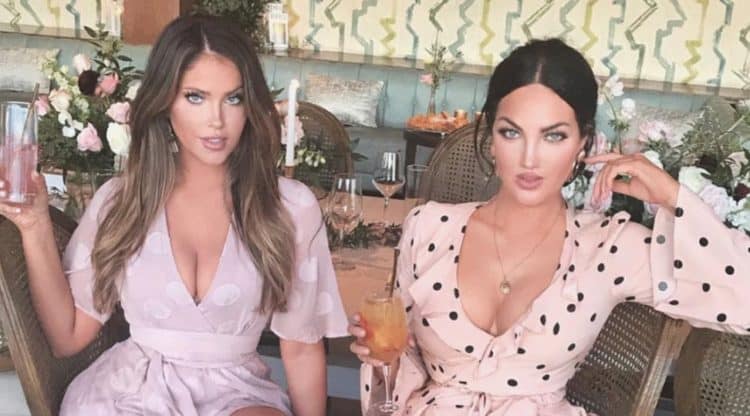 Reality TV fans, rejoice! E!'s newest and hottest reality TV show, Relatively Nat & Liv, is about to become your new favorite thing. The show, which premiered on Sunday June 2nd, will follow two of LA's most media-worthy influencers, Natalie Halcro and Olivia Pierson, as they balance deciding what's hot and what's not in LA with keeping things grounded back home in Vancouver. The funny, vivacious duo will keep you laughing with their exploits… and with any luck, you may even get a glimpse of their new BFF, Kim Kardashian. Find out more about the show with these 10 fast facts.
1. Nat & Liv are more than just friends
The stars of the show, Natalie Halcro (age 31) and Olivia Pierson (age 29) aren't just friends, they're relatives. The cousins realized early on that working together doubled their chances of making it big; after all, visit one of their Instagram accounts and you'll naturally stumble on the others. Since seeing the cousin's success, the wider Halcro/ Pierson family have got in on the action, extending the duo's reach even further.
2, It's not their first taste of reality TV
If the cousins seem familiar, it's because they are… at least if you're a regular viewer of reality TV. Nat and Liv first came to prominence on the now cancelled WAGS LA. The show, which premiered on E! in 2015, revolved around the wives, girlfriends and would- be cohorts of some of America's most "famous" sports stars (although as it transpired, most of the women were, at best, only tangentially connected to the featured sport's stars, with the majority clearly more interested in pursing the spotlight than they were the men. As for the "famous" sports stars, the less said about that the better). The series aired for 3 seasons but was cancelled in 2018 after disappointing ratings.
3. They've got Kardashian connections
During the third season of WAGS LA, Nat and Liv started to pop up with increasing regularity on Kim Kardashian's Instagram. A few months after they first featured, the pair cemented their status as a Kardashian favorite when they were spotted at Kanye West's ye listening party in Wyoming. Since then, they've appeared on Kim's popular show, Keeping Up with the Kardashians, and even wangled an invite to her baby shower. Of the new friendship, Kim has said "Sometimes it's fun to have friends that aren't my mom friends, that I can just have a good time with."
4. They've made a fortune as influences
The pair's career as media influencers started in 2010, when Nat was employed as a make-up artist and Pierson was serving as her assistant. After catching on to the popularity of Instagram, the pair realized the potential to make some serious bucks from the new trend. "(I thought) okay, I think we can make some money here," Pierson told Vice. "And then slowly kind of quit doing the makeup and quit serving and that did become our full time job." They've subsequently made a fortune through paid posting, Youtube, and a (somewhat neglected) blog. Over the last couple of years alone, the pair have racked up between $15-20,000 per post of sponsored content for the likes of SugarBear Hair, Orogold Cosmetics, Guess, Marciano, Lilly Lashes, and SkinnyMint detox tea.
5. It's a family affair
Relatively Nat & Liv doesn't just feature its namesakes, it's a vehicle for the entire Halcro/ Pierson clan. Along with Nat and Liv's gay brothers Joel and Owen, the show also features Liv's brother Brock, sister Sophia (with whom Liv has a somewhat fraught relationship), mom Rhonda, and Rhonda's current husband Jim. Representing the Pierson family are Nat's sister Stephanie (another influencer, but more of the earth mother type than Nat), mom Julia and dad Brian.
6. They don't spend quite so much time in Vancouver as it seems
The show is predicated on the idea that when Nat and Liv aren't busy making a fortune in LA, they're reconnecting with their roots in their native Vancouver. However, things might not be quite as they seem, with the star's admitting to VICE that they really only tend to go home during holidays. Indeed, shooting the series was the first time they'd spent any real time in the Canadian city since moving to LA. Just another example of reality TV being slightly less "real" than it makes out, then…
7. It's already established its central story arc
Those lucky enough to have caught the pre-screened episodes of the show will know the main story line for the season has already been decided. Several episodes of season 1 look set to revolve around Nat and Liv's plans for Nat's parent's 40th wedding anniversary… which sets the scene for the pair to start scheming about how they can reunite Liv's divorced parents, Brian and Julia. Whether or not they succeed, only time will tell. Either way, it will certainly make for some interesting viewing while they try.
8. It's been a long time coming
Nat and Liv have been planning the show for some time, with the idea for its development going all the way back to 2009. "It's kind of been our idea for a really long time," Nat told Global News. "We had it on a vision board about 10 years ago. We were on WAGS, and then it was just a natural progression".
9. They're looking forward to people seeing a different side of them
Fans of Liv and Nat will be used to seeing the pair heavily made up, dressed to the nines, pouting for the camera, and looking nothing less than Instagram-worthy at all times. Their style on Relatively Nat & Liv might, then, come as a bit of a shock. Gone is the makeup, gone are the designer clothes, gone are the pouts, and in their place are freshly scrubbed faces, tied back hair, and big, goofy grins. "I think you see one side of us on Instagram, which is very polished and refined to some extent," Nat told Global News. "And then on this show, you really see us with no makeup on, going fishing, milking goats. You see a different side of us, for sure".
10. Their significant others will be part of the show
While Nat and Liv have been close- lipped about their love lives until now, that's all set to chance. Relatively Nat & Liv will give viewers the chance to see the duo's significant others for the first time…. although just how much we'll see remains in doubt. "We're open about our love lives — 100 percent, " Nat told E-News. Liv, on the other hand, seemed reluctant to commit, going only so far as to say we'll see their partners "to a degree."