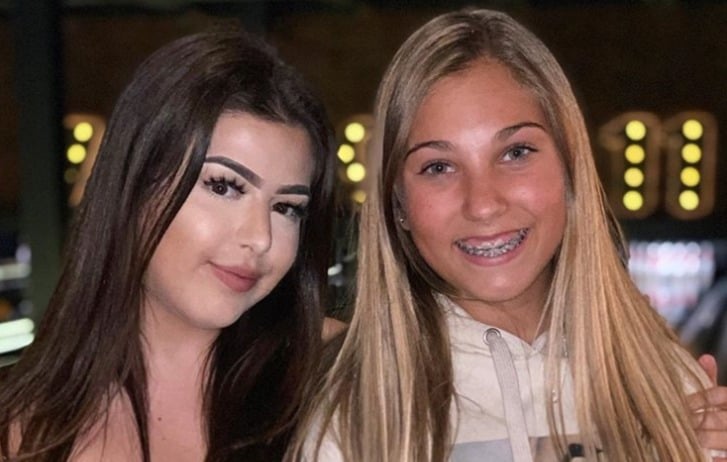 They say it takes only a minute to change your life. In the case of Sophia Grace and Rosie, all it took was two minutes and a half, and they became an instant hit on YouTube. Back then they were just kids being all sassy with their cover of Nicki Minaj's "Super Bass" song as they were recorded. On September 2011, the video of the two young cousins then aged 5 and 8 made its way to YouTube sending the girls on their meteoric rise to fame. Now they are in their teens and continue to take the world by storm.
Appearance on Ellen DeGeneres show
The video captured the attention of Ellen DeGeneres, who brought the girls to her show. For Sophia Grace, her idol was Nicki Minaj, so it is no surprise that she was recorded singing Nicki's song. Dreams do come true, and when Ellen asked the girls if they wanted to meet Nicki, Sophia threw hands into the air with an excited "Yes." She had no idea that she was about to come face to face with her idol. The joy on Sophia's face could not go unnoticed as she ran to hug Nicki, screaming at the top of her voice as "Super Bass" played in the background. The audience could also not help but rise to their feet, clapping, and cheering with some shedding tears of joy. To perform beside someone you look up to is every singer's dream and that day, Sophia Grace sang alongside Nicki. While they have always been known as Sophia Grace and Rosie, by then it was evident that Sophia carried the crown with all the makings of a superstar. The girls got the advice that any parent would love to hear as Nicki advised them to stay in school. She told them to prioritize their education and make music their second thing on their to-do list.
Did they listen to Nicki Minaj's advice?
Nicki advised the girls to concentrate on their studies in October 2011, but by 2013, Sophia Grace had already begun her musical career. She debuted with "Girls Just Gotta Have Fun" a solo single that had her cousin, Rosie in the video helping her pick the perfect outfit for a party. Sophia is an instant magnet for public likes; therefore, the video has so far garnered 1.3 million likes and 218 million views. Sophia went ahead to release another song in 2015 "Best Friends" that made its way to Billboard's Hot 100. By then she was determined to make music her career because she signed with Capitol Records France. On June 6, 2016, she released "Girl in the Mirror" that featured Silento. Perhaps encouraged by her cousin's success, Rosie decided to give music a shot and stop riding on Sophia Grace's stardom. She had already established that she is also bold enough with the interviews they did during "Tea Time with Sophia Grace and Rosie." Rosie revealed she had a boyfriend, but they had chosen to remain friends when they interviewed Taylor Swift. Rosie, therefore, made her musical career debut last year by releasing a solo single "Handstand."
Sharing the tight cousin bond
You cannot choose your relatives. While some feel the burden of being tied to a family that has strained relationships, others are blessed with relatives with whom they share tight bonds. Sophia Grace and Rosie have been close even before they become celebrities. For them to have been recorded together performing the same song means the girls must have spent lots of time together; perhaps also practicing before they went viral.
Now eight years have passed since we saw them in their tutus and they have grown into beautiful young women. Sophia no longer has crooked teeth, but she has maintained her long black hair. Rosie, on the other hand, is now in braces as she enters the age that every parent dreads; teenage. According to Today, the two cousins shared a photo as Sophia helped her cousin celebrate her 13th birthday in style. Rosie took to Instagram to express the love she had for her cousin. She confessed that the bond they share will never be broken and the memories they have made together will never be forgotten.
However, that is not the first time that the two have made the headlines since their first appearance on the Ellen DeGeneres show. In a move to show gratitude for all that Ellen had done for them the cousins wished Ellen a happy birthday as she turned 60. Ellen even shared a clip of the two girls on Instagram saying she could not believe she was getting old, seeing how big the cousins had grown. That was two years ago, and now, Sophia Grace is 16 while Rosie is 13.
Other ventures by the girls
Once you are famous, it seems like everyone wants a piece of you, and unless you are focused on what you want, you can end up pleasing everyone but yourself. 2013 was a good year for Sophia Grace; apart from making her debut single, she also was set to star in "Into the Woods." However, the public ever eager to air their opinions noticed that she was too young to play Little Red Riding Hood due to the sexual undertones between the wolf and Little Red. The parents reconsidered their daughter being cast in the film and withdrew her from the role which was later given to Lilla Crawford.
Sophia and Rosie, however, have starred in their own movie titled "Sophia Grace and Rosie's Royal Adventures." They have made some money with Sophia reportedly having been paid $50,000. If the film has sequels, she will receive an additional $25,000 after each sequel, and by the time they film the 4th and 5th installment, both Sophia and Rosie will be earning $100,000 each.
They also have proven to be accomplished authors with their books "Tea Time with Sophia Grace & Rosie" and "Showtime with Sophia Grace & Rosie." Further, their entrepreneurial spirit has led the girls into making singing dolls that sing the cousins' cover of "Super Bass" when pressed in their bellies. The dolls dressed in tiaras and tutus, come in pairs, representing Sophia Grace and Rosie and have shoes, ruffled socks matching microphones.