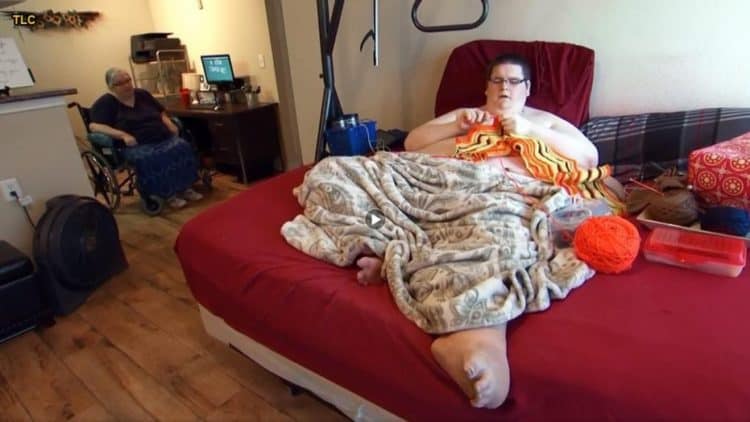 It's sad that Sean Milliken died at a young age. It is even sadder to fathom the plight that he had to live with all of his short life. In his own words, Sean explained that he felt like a prisoner in his own body. The fact that his body was always ailing, painful and immobile makes it easy for anyone to sympathize with him. How about his mother, isn't it just heartbreaking that she led a majority of her life taking care of her constantly bedridden son alone? It's really sad. Yet, Sean's life wasn't totally without purpose. There is so much that we can learn from his 600+ Lb life, and his subsequent death. Remembering 'My 600-lb Life' star Sean Milliken can be absolutely heartbreaking, but his memory certainly stores plenty of lessons from which Americans can learn.
On the 17th of February 2019, Sean was taken into hospital critically ill. According to a Facebook post by his father, the 29-year old suffered an infection that had him hospitalized. The doctors tried to resuscitate him after he experienced severe breathing difficulties, but they failed. He died soon after. Popular TV network TLC issued a statement informing its audience of Sean Milliken's passing and passing its messages of condolences to his family and friends. Matt Milliken was distraught and heartbroken after his son's early death, and he published statements claiming that his son was a good man who deserved better.
His Appearance on "My 600-lb Life"
Back in 2016, TLC decided to conduct an awareness campaign to enlighten the American society of the difficulties that overweight and obese people face. It sought to take us through the lives of individuals who weight over 600 lbs and have them expressing how they faced their daily situations. The show first introduced Sean to Americans when he weighed 900 lbs. Thanks to the weight loss program that it motivated him to get into glorious enabled him to lose 400 lbs. Furthermore, it made sure to look him up in the last six months to find out about his progress with weight loss. The positive turnaround that the young Milliken had made concerning his health had regressed. TLC organizers were concerned to find out that Sean was spiraling out of progress and back into his obsessive feeding habits out of his grief. His mother had passed on during the time they had been in touch. However, he made a promise to them that he was still committed to living a healthier life.
The Loss of a Dad
Even though Sean was already 150 lbs at a young age, he blamed his father for his obsessive eating. He accused Matt Milliken of driving him to emotional eating due to his verbal abuse. His mom told TLC, during the show "My 600-lb Life" that her divorce with Matt fueled the emotional eating further. His weight affected him so much that he just couldn't do anything for himself. He peed on a bucket, and his mother had to give sponge births mostly throughout his adult life. He spent most of it bedridden and unable to stand for more than 30 seconds. He told TLC, back in 2016, that standing was painful. What was even more painful was that his skin always kept on tearing because the fat was just too much.
Renee expressed concerns for Sean's health after she realized that she couldn't handle cleaning him on her own anymore. He needed to be clean all the time because of the constant tears that his skin kept suffering. With so many wounds plaguing his body surface, he was prone to suffering life-threatening infections if he didn't stay clean.
Although Renee blames Matt for Sean's obsessive eating when he was much younger, she admitted that she had something to do with all the food that he kept eating. She claimed that she took him from his father because their relationship wasn't healthy. She also made light of the fact that she kept buying him junk food all the while she raised him from young adolescence to adulthood. The increase in weight from 150 lbs to 900 lbs happened when she was raising him alone. Why did they still blame Matt for the overweight problem? Did she not admit to having an eating disorder too?