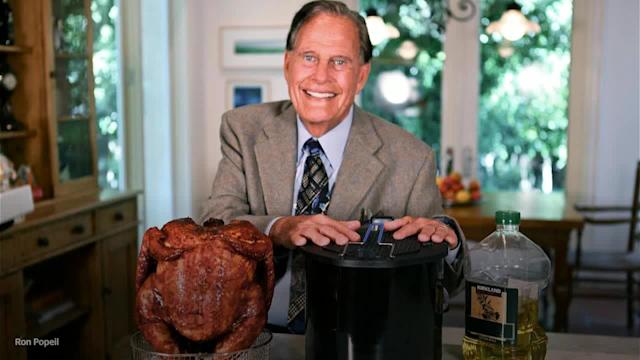 At one point in time, a lot of us have watched an infomercial and have seen one device after another touted out into a kitchen setting to show us how it can cook, chop, clean, or do something in a revolutionary way. Sometimes these items sound and look amazing, and at others, they might all start to look alike. What really sets them apart is the presentation and the presenter a lot of times, and at one time, Ron Popeil was one of the absolute best at selling a product. Sadly, Ron passed away recently at the age of 86. No cause was given for his death, but he was admitted to the hospital the day before he passed. If anyone has ever seen Ron doing what he can to hawk a product on TV, and it's fair to say that a lot of us probably have at least once or twice, we would have noticed that he was the kind of guy that was everywhere he needed to be when he was still wheeling and dealing, and he was good at what he did.
Ron was able to get people to listen to him and to even agree with what he was saying, which is the mark of a great businessman to be certain, but also the mark of someone that knows how to deliver the goods to people in a way that will make them certain that they want to buy. Some people might think that a lot of the stuff that's seen on late-night infomercials and that's sold by men and women like Ron that are trying to make a living or build their own empire is just more junk that we don't need. But there have been plenty of inventions that have come and gone over the years that have been quite useful, and seeing them in use on TV has been a big help to salesmen, who can't exactly carry everything with them for a demonstration.
Learning much of what he knew from his father, who was also an inventor, Ron didn't really appear to fit in when he went to college and quit after 6 months. It's not exactly a great way to promote education when seeing celebrities of all different calibers dropping out and then becoming successful, because while some folks, such as Ron, can hustle and make such ideas work with a lot of grit and determination, some individuals actually need an education to get ahead. But the fact is that Ron did drop out of school and still made something of himself since his inventions were able to help him create his own company which would eventually compete with his father for business. One has to wonder if Ron's father ever grew irritated with his son when it came to competing with him, or if it was understood that it was business and not personal. A proud father would likely encourage his son but still do everything he could to outsell him since that's the business after all. But it does sound as though things were copacetic between Ron and his dad. Ron even won the Ig Nobel Prize in Consumer Engineering, so to be certain, he wasn't a flash in the pan that came and went with one new product after another.
Ron was an entrepreneur and an inventor and he spent his career doing everything he could to keep pushing new ideas and new items to the people that wanted them and felt certain they needed them. It's not certain if he was a born salesman but throughout his life, he definitely learned since the guy could sell almost anything to anyone. It does sound kind of rude to think that flipping the channel away from an infomercial meant we didn't always get to see Ron in action, but it's easy to imagine that plenty of people did since otherwise he wouldn't have been remembered as he is at this point, since while it might sound rude, mediocre and so-so salesmen and inventors can get by and make a living, but they both definitely need to do something great to be remembered. Ron managed that in a big way since even if people don't know him that well, the chances are good that they've seen his face and might recognize him.
Those individuals we grow up with in our lives in one way or another, be it significant or something that we've seen but not paid much attention to, are starting to pass on in a fairly regular fashion. While some die of natural causes and others die in other ways, there's one similarity that they all share, and that's the fact that they're a part of our memory now, and they likely will be for many years to come. Rest in peace sir, you'll be missed.