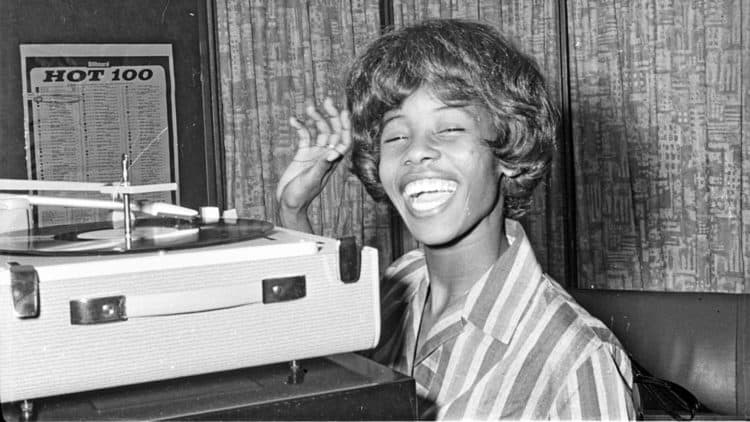 On May 6, 2020, it was announced that the Jamaican singer Millie Small – best known for her 1964 international chart-topper "My Boy Lollipop"– had died at the age of 72 years old from a stroke. The news was made public via Island Records, Small's home for most of her career. In a statement, Island Records founder Chris Blackwell said, "Millie opened the door for Jamaican music to the world. It (My Boy Lollipop became a hit pretty much everywhere in the world. I went with her around the world because each of the territories wanted her to turn up and do TV shows and such, and it was just incredible how she handled it. She was such a really sweet person, very funny, great sense of humor. She was really special." "Millie Small was a true original, a wonderful human being and will be dearly missed by everyone," he added.
Little wonder the outpouring of sentiment… in 1964, Island Records was a marginalized concern that had yet to produce a single hit record. And then along came 17-year-old Millie with her chirpy, insanely catchy 'My Boy Lollipop. Overnight, the label's fortunes changed dramatically. The track – which was recorded in the blue beat style of early reggae – performed spectacularly well around the world, reaching No. 2 in both the U.S. and UK and giving Island Records their first major hit.
Small was born Millicent Dolly May Small in Clarendon, Jamaica as one of 12 siblings. By the time she was a teenager, she was already making headway in the music world, having won the 30-shilling second prize in the Vere Johns Opportunity Hour talent contest (at that time, one of the main routes to fame for many local Jamaican acts) at the age of 12.
After auditioning for Studio One record producer Coxsone Dodd, Millie was partnered up with Owen Gray, and together, they made several local hits. After Gray resumed his solo career, Millie teamed up with several other local artists, before eventually catching the eye of Island Records founder, Chris Blackwell. Blackwell managed to convince Millie she had what it took to go international with her fame. After becoming her legal guardian and manager, Blackwell and Millie moved to London, where she began an intensive routine to perfect her dancing and diction. "I hadn't planned on being a star, but I always wanted to be a singer, and I felt like it was my destiny to go to England," Millie later recalled.
By the time 'My Boy Lollipop' was released in 1964, Millie was still just 17 years old. But she was also a 4-year veteran of the industry… which must have made dealing with her meteoric rise to fame that little easier to handle. After extensive radio play and promotion, 'My Boy Lollipop' rose all the way to number 2 on the UK and US charts, kept from the top spot only the Searchers and the Beach Boys respectively.
The timing of the release couldn't have been more perfect: as noted by the Guardian, in 1964, the US was in the grip of the first wave of Beatle mania, giving Millie the perfect opportunity to ride the slipstream of the British Invasion. Everywhere she went she was greeted by legions of screaming fans and hordes of security. But while the new environment was about as different from her upbringing as you could get, she dealt with it with aplomb. "It was just incredible how she handled it," Blackwell recalled in his statement following her death. "She was such a sweet person: very funny, great sense of humor. She was really special."
After earning herself the title of "The Blue Beat Girl", Millie spent the year following the release of 'My Boy Lollipop' touring the UK and regularly appearing on TV. Her follow up single of 1965, 'Sweet William', fared less well than its predecessor, but still managed to reach number 30 in the UK charts, number 40 in the US, and number 22 in Canada. That year, she cemented her new celebrity status when she returned to Kingston to perform on several shows, even, on one occasion, topping the bill over fellow performers Otis Redding and Patti LaBelle.
In 1965, her first album, 'More Millie', was released, followed up by several further solo singles and collaborations. But none of the material proved to catch the public's imagination in quite the same way as 'My Boy Lollipop'. "The problem was that after My Boy Lollipop," Blackwell later recalled, "We just couldn't find another song of that caliber." Millie, it seemed, was in danger of becoming seen as a one-hit-wonder. After several more singles and LPs failed to set the charts on fire, Millie was dropped from Island Records in 1968.
The following year, Millie returned to the recording studio after reggae began growing in popularity in the UK. But she never quite managed to recreate the success of her first blazing glory. After just a couple of new releases, she retreated from the media gaze in 1973.
From that point on, Millie never released any further new material, and very rarely gave press interviews. Despite that, her legacy lived on. Although some have been quick to dismiss 'My Boy Lollipop' as a novelty item, its influence, as Record Collector Magazine has noted, has been profound and manifold. The record made Mille the Caribbean's first international superstar and, for a period, its most successful performer. As well as helping to establish one of the most iconic independent record labels of the 20th century, 'My Boy Lollipop' paved the way for generations of Jamaican artists to come, selling over seven million copies worldwide and popularizing the Caribbean sound as no other artist had done before. After leaving the music industry, Millie devoted herself to raising her daughter, Jaelee, born in 1984. Jaelee, now a singer herself in London, survives her.