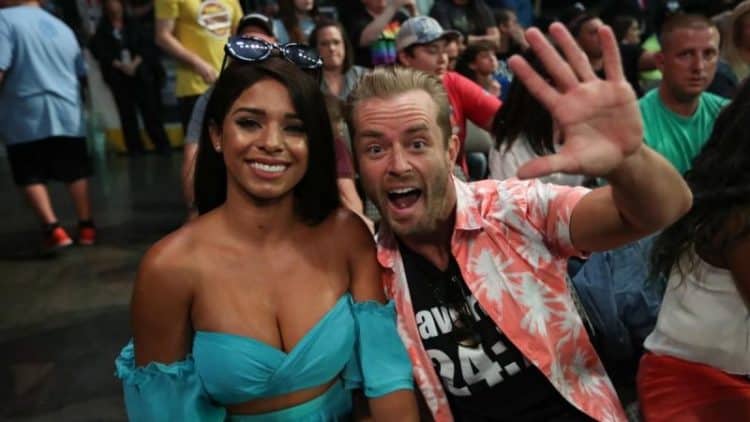 Gone are the days when women stood on the sidelines of a wrestling ring. These days, female wrestlers have become some of the industry's biggest attraction, and we can't blame them. Female wrestlers are extremely fierce and competitive, and they do it all with high heels, makeup, and even with long nails. Professional female wrestler Renee Michelle is one of today's favorite female wrestlers. She's been in the professional circuit since 2015, but there are still a lot of things that you probably don't know about her. So here are 10 things about Renee Michelle you ought to know about.
1. Rosebud
Renee Michelle might have gone pro in 2015, but that's actually not the first time we saw her enter the ring. During the Slammy Awards on December 8, 2014, Renee was one of Adam Rose's Rosebuds—his entourage. Although she didn't really do much then, that moment in the spotlight probably propelled her desire to be on an even bigger stage. She had already been fighting before that time, so it was just a matter of overcoming obstacles to get where she needed to be in the world of wrestling.
2. First Match
Renee's first professional title fight was an important one in her career. She was wrestling on the independent circuit, and the title fight occurred on June 22, 2013. The show was a collaboration between the National Wrestling League and the House of Pain Wrestling Federation. Renee fought fellow female wrestler Rebecca Payne, and unfortunately, Renee was defeated. The two were wrestling for the NWL Wrestling Championship title, which was vacant at the time. Renee's next title match for the ECWA Women's Championship would end up in a time limit draw. She fought Kennadi Brink.
3. First Win
There's nothing like the first win in anything; and for Renee Michelle, winning her first title match was everything. The event happened during the MCW Waldorf Warfare on October 3, 2014. Renee was still fighting for MCW Pro Wrestling, and she won the MCW Women's Championship after defeating Amber Rodriguez during that fight. Renee would win the MCW Women's Championship three more times before losing it to Melina. During that reign, Renee defeated wrestlers Kimber Lee and Brittany Blake along the way.
4. After MCW
Renee didn't stop her career after that loss. She went on to wrestle for World Xtreme Wrestling and actually had a grand debut. Renee won the WXW Diamond Division title during her debut, defeating then champion Jenny Rose, Niya, and Sammi Pandora. During that same time, Renee also wrestled for Shine Wrestling. She had her debut fight on July 24, 2015, but she lost that fight to pro Amanda Rodriguez. All wasn't lost, however, because this was the time when WWE would start to notice Renee Michelle.
5. WWE
In wrestling, there aren't as many stages as big as the World Wrestling Entertainment. Renee made her WWE debut on July 13, 2017 as an entrant to the WWE Mae Young Classic. The Mae Young Classic is a prestigious event for the WWE, and this was huge for Renee's career. Unfortunately, she lost during the first round to Candice LeRae. Despite of that loss, her entry to the event would propel her career with WWE, which is still active to this day. Renee's character has become embedded in the whole culture of WWE.
6. Drake Maverick
WWE wouldn't be the same without its wrestlers and their stories. Part of the entertainment is the drama—it isn't always about the wrestling. In true WWE fashion, star wrestler Drake Maverick married Renee Michelle right in the middle of a WWE 24/7 title match. It was a truly intense and highly compelling moment for the wrestling couple. Of course, the story ends with Drake becoming the WWE 24/7 Champion. It was a win-win moment, but the story doesn't end there.
7. Twitter
Renee Michelle has been blowing up on Twitter after she tweeted that her new husband Drake Maverick has not consummated their marriage even after more than a week later. There's a possibility that Drake might just be too elated from his win; or as Renee claims, Drake might just be too tired from running around with his WWE 24/7 title. However, this isn't the first time that Drake won the 24/7. He won the title just recently on June 18, but he only held that belt for 2 days. Drake might be too preoccupied with keeping the 24/7 title safe to consummate his marriage to Renee.
8. Trainer
Chigusa Nagayo of the Crush Gals is one of the most sought-after trainers there are out there. Nagayo is a Japanese professional wrestler and is one of the biggest names in joshi wrestling. Renee Michelle actually became the first female student to ever get accepted to train and study at the Marvelous Dojo in Japan.
9. WWE Raw
It's been confirmed that Renee is now an active performer for Raw. That means we'll be seeing more of her on the show, and we'll probably see her a lot with her husband. It's all about the story with Raw, and right now, Drake and Renee's story is selling hot. We've already seen a lot of activity from the two after they got married, and we're expecting there will be more shenanigans in the future.
10. Signature Moves
We're glad we'll get to see Renee more, but we're also hoping that we get to actually see her wrestle. Renee Michelle is quite the talented wrestler, and she's got some of the best signature moves we've seen in a while. Some of our favorite ones includes her Moonsaults: the Asai and the Bonita Bomb. We also like the Dragon Sleeper and the Hangman's Facebuster.