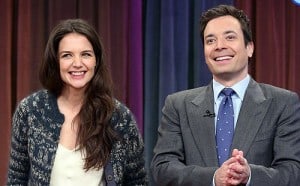 The rumors are old, but the hype is relatively new and getting stronger by the day.  It has long been suspected that Jimmy Fallon would succeed Jay Leno as host of NBC's late-night staple "The Tonight Show", but the circumstances surrounding the transition are starting to become clear.  It seems that the opening will not come via a Leno retirement.  Instead, it is looking like NBC brass is becoming increasingly agitated with Leno's on air barbs towards the network, and slipping ratings.
Behind all of the drama, The New York Times revealed that NBC has been secretly working on an updated studio for Fallon's "The Tonight Show" at NBC's headquarters in New York at 30 Rockefeller Plaza.
"The Tonight Show" has been filmed in Burbank, California since 1972, when the talk shows most recognizable host, Johnny Carson, moved the show there.  Steve Allen and Jack Paar had previously hosted the series in New York.
Leno took the brunt of the blame when he was moved to a prime-time slot in 2009 and failed to attract even a smattering of viewers.  Conan O'Brien was infamously ousted from his position as host of the 'The Tonight Show' leading to chiding from the press.
As far as when the transition will happen, Leno's contract is up in Fall of 2014 and there is apparently no precedent for early dismissal.  Leno seems to be having too good of a time ridiculing his employer to make an early exit on his own.