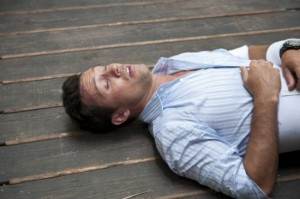 Are you as excited about the November 11 return of Burn Notice as I am? Well, there are some new promotional and behind the scenes photos to tide you over.
SPOILER & SPECULATION ALERT.
The return episode, "Eyes Open," wisely continues from where the midseason finale "Guilty as Charged" left off. Here's the official synopsis released by USA:
When a vengeful lawyer hires a paranoid bombmaker to kill off members of a local gang, Michael (Jeffrey Donovan) is forced to intervene before innocent lives are lost in the mayhem. Meanwhile, Michael and Jesse (Coby Bell) must work together to track down a stolen document containing highly classified government secrets. Guest starring Daniel Pino and Robert Wisdom.
From that synopsis, we know that we haven't seen the last of defense attorney Scott (Pino), whom many fans thought would be back. Sounds like he's out to make some people pay for what happened in the previous episode. Likewise, we haven't seen the last of the smarmy Vaughn (Wisdom), who was last seen ruining Michael's plan to take down John Barrett (Robert Patrick). It's good to see that Michael and Jesse are back on the same side, but I'm sure they're not copacetic just yet.
USA's press release regarding the return provides some vague details about what's in store for the rest of the season:
"We will see Michael and Jesse work together to track down a stolen document containing highly classified government secrets; we'll watch as Michael meets with Jesse's old handler one last time; see Michael escape a tactical assault team threatening his life and those around him; and even see Michael forced to work side by side with his enemy…all while the team is trying to stay one step ahead and get one step closer to figuring out the mystery behind Michael's burn notice. Upcoming guest stars include Dylan Baker, Jay Karnes, Tim Matheson, Raphael Sbarge, Leo Fitzpatrick, Alexi Gilmore, Michael Jace, Callie Thorne and Daniel Pino."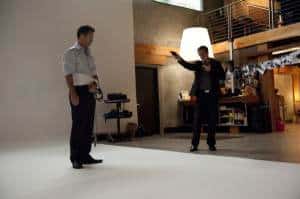 It's certainly rife with possibilities. We knew that crazy Larry (Matheson) and the villainous Brennan (Karnes) would be back, but it's still great to see that acknowledged since they're two fan favorites.
We're also uploading a gallery of promotional and behind-the-scenes photos from "Eyes Open" that will provide food for thought for hardcore Burners. Although, why in the heck is Scott pointing a gun at Michael? You know that can't end well.
Let the speculation commence! Burn Notice returns on November 11 at 10 PM ET/PT on USA.