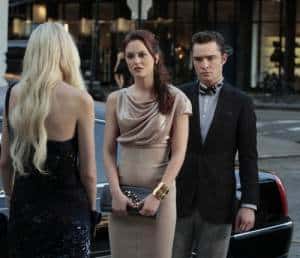 Do you believe in coincidence? Or was Taylor Momsen's latest display of revelry on stage a well timed ploy to remind everyone that she is back on Gossip Girl ?
Tonight's new episode entitled 'Easy J'sees the return of Jenny (Taylor Momsen) who was exiled at the end of last season by Blair (Leighton Meester) after she revealed that she had lost her virginity to a certain Mr Chuck Bass (Ed Westwick). As Chuck has declared war on Blair what better way to stir things up further than bring back the reason for the lack of reconciliation last year. Not only has he got her to come back but he has scored her some potential work with none other than the fabulous Tim Gunn who will be playing himself in this episode.
Tim Gunn has spoke of his experience on the show last month and in particularly the bad attitude and work ethic of Taylor Momsen who in her hiatus from the show has been carving out quite the music career with her band 'The Pretty Reckless'. She has also been gaining somewhat of a reputation for saying shocking things about her preferences regarding subjects such as masturbation and porn, as well as dressing in rather revealing clothing which are reminiscent of Courtney Love in the early 90s, which in itself is a comparison that angers Momsen.
In yet another display of bawdy behaviour the seventeen year old at a gig this weekend in New York flashed her braless chest with only black tape à la Lady Gaga covering her nipples. Once again Momsen is getting many words written about her and whether this is appropriate for some one of her age to act. By writing this I am fully aware that I am further adding to this dialogue and I am sure the reason for many of these outlandish quotes and actions is to get as much attention for herself and her band.
But back to the return of Jenny to Gossip Girl tonight; after all Momsen's exploits over the summer with her musical career are you glad to see Jenny back on the show? Do you think that she is as bad on set as Gunn made out? Are you looking forward to what Chuck has in store for his revenge plot? And will this return to the Upper East Side be permanent for Momsen who has spoken at length about the importance of her music career? Let us know in the comments below and check back in later for Mark O. Estes review of "Easy J" for his thoughts on Jenny's return.
You can view a sneak peeks (here, here and here) that we've posted for this episode, along with promo photos.