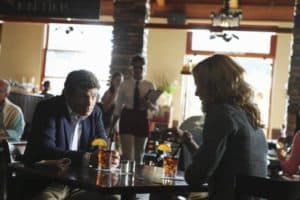 It wouldn't be far-fetched to suggest that the entire series Revenge is about trust or, at least, the lack of it. After all, Emily is taking her revenge against the very people who turned against her father and betrayed his trust. Episode 2 of Revenge, airing tonight, is simply entitled "Trust" and I think it perfectly displays that word in a variety of forms.
The Betrayal of Trust
Once again, we're presented with a character who betrayed Emily's father. This episode introduces us to "Uncle" Bill Harmon. Bill is a hedge fund manager who used to be a family friend of the Clarkes. In fact, he was the very person who gave young Amanda her dog, Sammy. But, like the other conspirators, Bill testified against David at his trial. We didn't get much clarification as to why Lydia agreed to testify, but it becomes clear later in this episode why Bill turned against his friend.
In the present, Emily has set her sights on Bill, who is visiting the Hamptons for a polo match. It's her apparent friendship with the very wealthy Nolan that catches Bill's eye and Emily plows ahead with her plan to take him down. In some respects, it's almost too easy, but that doesn't mean it's not fun. Perhaps the only problem I have with Emily essentially destroying one person per episode is that we really don't have enough time to get a feel for these conspirators. Bill is portrayed as a bit of a money-grubbing snake but you don't understand more about him at this point in time. I'm hoping that we'll get more backstory about all of these players in the future. I would hate for them to just be one-dimensional characters. But these things take time and I'm having too much fun right now with Revenge for this fact to ruin my enjoyment of the show overall.
The Building of Trust
We know, ultimately, that Emily and Daniel get engaged. But we don't know how they got to that point. Does Daniel genuinely love her? And will Emily find herself falling for her mark? That we don't know yet. But what we see in this episode is the blossoming of a relationship between them. In a way, Emily is trying to build Daniel's trust, one carefully-constructed situation at a time.
In addition to the budding relationship between the pair, you've got another budding partnership in the making. Nolan seems very eager to help Emily in her plans for revenge, as we saw in the pilot episode. But he goes even further in this episode. Even when it seems that he's gone behind her back and bought the beach house out from under her nose, it turns out he was just looking out for her. And his company gives Emily a powerful weapon in her attempt to destroy Bill. Nolan is doing everything right to gain Emily's trust and he voices his reasons for wanting to help her in this episode: her father was the only person who trusted him from the beginning. And yet, even as Nolan helps Emily gain ground in the world of the rich and famous, you can't help but wonder whether his motives to help her are pure or if he has an agenda of his own. Maybe I'm just seeing unnecessary treachery around every corner!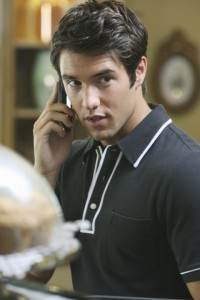 The Lack of Trust
In the pilot, we saw that there was some tension between Victoria and Emily. It's clear that Victoria doesn't trust Emily and asked her private investigator to investigate the Hamptons' newest resident. In the episode tonight, we'll see what details the PI has managed to uncover. But Victoria isn't just sitting around waiting for a report…she's actively trying not only to pry details from Emily, but also get her the hell out of the Hamptons. When her plan to force Emily to move fails, she decides to live by the old adage "keep your enemies closer" and invites Emily over for tea. Unfortunately, that completely backfires for Victoria because it's one of the catalysts for the date between Emily and Daniel, which is something Victoria is definitely not pleased about.
The Manipulation of Trust
Don't think that Lydia's exposure and banishment from the Hamptons by Victoria means we've seen the last of Amber Valletta. We'll be seeing her as a guest star in many episodes, including the one tonight. She summons Conrad for a meeting in the city and decides to use their former relationship as an excuse to get her pound of flesh from him. After all, they were in that affair together and now she's the one who is really suffering.
The Breaking of Tenuous Trust
I haven't forgotten about the Porter boys, and neither has Revenge. Tonight's episode features Nolan still trying to befriend Jack, but Declan is going through a tough time in particular. He's trying his best to make friends with Charlotte, who seems to be trying. Unfortunately, Charlotte has a douchey, rich "boyfriend", who isn't happy about Declan trying to worm his way into Charlotte's life. Later, he manipulates the situation and Declan's desire to be friends with Charlotte and shows the youngest Porter exactly what he thinks of him trying to enter "high society".
What Else is in Store?
Not everything in this episode is about trust, though, despite the fact that it is certainly a running theme. In addition to Declan's run-in with the douchey "boyfriend", the Porter boys have to face another challenging and emotional situation. The potential closure of the tavern is not their only problem. I won't spoil the ending for you, but let's just say that Jack is sure to be taking on some new responsibilities in the short-term.
Don't miss an all new episode of Revenge tonight at 10:00 p.m. on ABC. You can view photos for the episode here. We also have four sneak peeks to share with you. Click the arrow below to view them all.