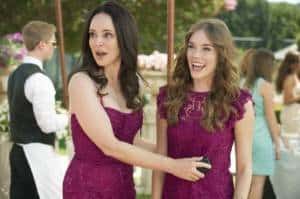 In the most recent episode of Revenge, Emily took down her most high profile conspirator yet: Senator Kingsley, who just so happened to be the federal prosecutor who helped put her father behind bars.
All of the recent scandals of their former conspirators is finally getting to the Grayson family on the October 12 episode of Revenge.
Conrad and Victoria are on edge after all of the scandals of their former friends and both of them deal with it in different ways. Conrad decides to secretly visit Lydia, while Victoria focuses all of her attention on her Mothers and Daughters charity event for mental health, which she attends with Charlotte. We'll also be getting more flashbacks that show the relationship between David Clarke and Victoria.
The charity event is the perfect event for Emily to take down her next time. This time she has set her sights on Dr. Michelle Banks (played by guest star Amy Landecker). Dr. Banks was the woman responsible for institutionalizing her as a young girl and Emily will revel in publicly humiliating the doctor in front of Victoria, Charlotte and the other people at the luncheon.
Meanwhile, the Porter boys will have to decide what to do about their father's bar.