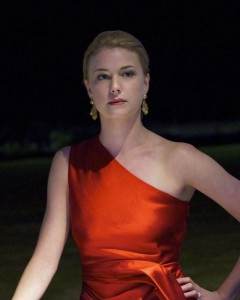 Emily Thorne (formerly, Amanda Clarke) is on a mission in Revenge. Given the title of the show, I think you can rightly assume that Emily is on a very specific mission. ABC's new primetime drama is a great addition to its line-up, with gorgeous scenery, competent actors, and a deliciously enjoyable plot.
The pilot episode of Revenge aptly sets the stage for the series. All the exposition we need to know is presented, but we also get to see the first take-down. Basically, Emily/Amanda used to vacation in the Hamptons with her father, David Clarke. Amanda's happy childhood was cruelly cut short when her father was arrested and convicted of supplying funds to terrorists who brought down an airplane. Amanda spent almost two decades believing her father was a horrible man, until she was finally emancipated and sent out into the world. Then, approached by the wealthy Nolan (an internet entrepreneur who informed Amanda that she owned about 49% of his company thanks to her father's investment), she learned that her father had actually been set up and betrayed by his former friends and the woman he loved: Victoria Grayson.
After turning herself into a different person, Amanda – now known as Emily Thorne – returned to the Hamptons to seek her revenge against those who had wronged her father. Her ultimate target is clearly the Grayson family – particularly husband and wife, Conrad and Victoria. She's not above using their son, Daniel, and his interest in her to seek her revenge.
Emily uses her good friend Ashley to start making her way into Hamptons society and also sets her sights on her first target: Lydia Davis. Davis is a good friend of Victoria who is currently going through a divorce (and who owns the house Emily is renting) and she's also having an affair with Victoria's husband, Conrad. Emily sets it up so that Victoria discovers the affair and then publicly banishes Lydia from her life and from the Hamptons. But Victoria is not a stupid woman. She's deeply suspicious of Emily and asks one of her associates to look into her background. Nolan, residing in the Hamptons for the summer and recognizing Emily again, offers to help her take the others down, but Emily doesn't want a partner.
Besides all the wealthy Hamptonites, you've got the obligatory townies: the Porter boys. Jack Porter dreams of sailing away on his boat, but decides to stay in town and sell it when his father's tavern faces foreclosure. He also used to be friends with Amanda when they were young, so Emily really tries to stay away from him, lest she jog his memory. The younger Declan Porter is clearly fascinated by the rich mean girls along the coast, particularly one Charlotte Grayson.
Thanks to the old "start the story at the end and flash back to the beginning" trick, we know how this particular story will end. Eventually, Emily and Daniel will be engaged and, on the night of his engagement party, Daniel will be killed.
Personally, I'm intrigued by Revenge and can't wait to see how Emily systematically takes down her father's former friends. I've already screened next week's episode and liked it even more than the pilot, so make sure to check our Revenge page for an advance preview next week. In the meantime, below is a promo for the September 28 episode of Revenge, and you can view photos for the episode here.