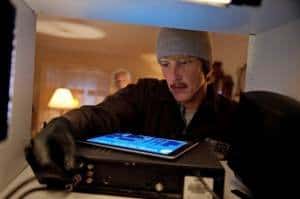 This week's Revenge was all flashbacks, all the time. The show opened with the real Amanda Clarke in 2002. While she seemed content to party with her newfound wealth, Nolan pushed her to read her father's journals and learn the truth.
With some prodding, Emily headed to the Hamptons and, while waitressing at the Grayson's New Year's Eve party, she met all of the conspirators who put her father away. These encounters convinced her that her father was innocent and all of these people deserved to be punished. Meanwhile, Nolan met up with the Porter family for the first time, which set him on a path of friendship with Jack, in particular. Although, that friendship was derailed by Jack's ridiculous girlfriend.
In next week's penultimate episode, "a painful loss forges a stronger bond between Emily and Jack, Victoria forms a new alliance that could seal Conrad's fate, and Charlotte sets out on a vendetta of her own with Declan as her target."
Watch a preview below for the penultimate episode of Revenge, airing on May 15 at 10:00 p.m. ET/PT on ABC.
For all of our coverage of the show, including sneak peeks, reviews, spoilers and more, browse and bookmark our Revenge page.