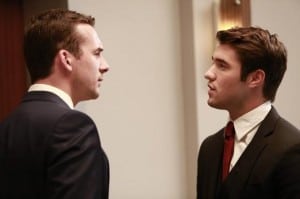 We got another flashback episode of Revenge this week, but this time we visited 2006.  Victoria's estranged mother showed up for a tense Thanksgiving, allowing us to see flashbacks to a younger Victoria and gain insight into her personality.  We also learned that Victoria is skilled at a revenge plan of her own when she set up her mother with a new boyfriend and then destroyed their "relationship" to get vengeance for the disdain her mother showed for her when she was younger.
Meanwhile, we saw a younger Emily's first mission for Takeda, which also led to her first meeting with Aiden.  It turns out Aiden's family also had a connection to the bombed flight that implicated Emily's father. Emily also met a down-on-her-luck Ashley during her first mission and "saved" her friend from having to prostitute herself.  And we met Nolcorp's former CFO who severed ties with Nolan after learning about his involvement with David Clarke.  In the present, Daniel called the CFO with a proposition.
In next week's episode, Daniel's role as the new CEO of Grayson Global is challenged while Emily and Aiden put their plan into effect at Grayson Global. Â From the looks of the promo, Ashley also seduces Conrad and someone ends up covered in blood.
Watch a preview below for the December 2nd episode of Revenge, airing at 9:00 p.m. ET/PT on ABC.
http://youtu.be/28Mrppd3Rss