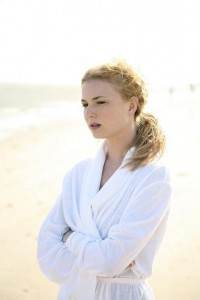 Revenge is one of my favorite new pilots of the 2011-2012 season, albeit in a guilty pleasure sort of way. It's a mysterious new show filled with glamor and intrigue. The production value is great, with lavish beach houses taking center stage along the clear blue water. The pilot begins with the beautiful engagement party of Emily Thorne and Daniel Grayson. But the death of a crucial guest prompts a terrible uproar, as well as a flashback to five months earlier. This is when we're really introduced to Emily Thorne, who has come to summer in the Hamptons. But Emily's not there to enjoy the sun, she's there to destroy those who destroyed her life a very long time ago.
We're quickly introduced to the other major players in this story: the wealthy and beautiful Grayson family, the far less affluent Porter boys, and the various other sycophants and debutantes who inhabit this decadent lifestyle. None of them realize they're all about to become pawns in Emily's game.
The pilot is fast-paced and introduces most of the crucial facts within the first hour, while also giving us a decent amount of insight into the most important characters. It does start at the end, which is a plot deivce that is used frequently these days, but that's not really important. My only question when first watching the pilot was how long can they sustain the revenge plot, especially depending on how long it takes Emily to destroy each character. How many seasons can Emily spend on her very specific goal? I suppose it will depend on how many layers there are to the mystery of what happened to her father (more on that soon). The producers have said that the action in the Hamptons and the current mystery will end at some point the focus of the show will move to New York and, presumably, new storylines. But that is only a mild concern at this point and I am eager to see how the story progresses.
You might be thinking that Revenge is simply another Desperate Housewives. The show can come across as a primetime soap, but it's occasionally darker and more serious than Housewives and it is definitely worth your time.
To help introduce you to Revenge, we've put together a handy character guide to introduce you to the major players (click on the arrows below to go through it). You can also view a trailer below. The final page of the character guide is filled with additional sneak peeks from the premiere.
Revenge premieres on September 21 at 10:00 p.m. on ABC.