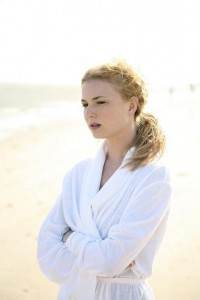 Revenge is one of my favorite new pilots of the 2011-2012 season, albeit in a guilty pleasure sort of way. It's a mysterious new show filled with glamor and intrigue. The production value is great, with lavish beach houses taking center stage along the clear blue water. The pilot begins with the beautiful engagement party of Emily Thorne and Daniel Grayson. But the death of a crucial guest prompts a terrible uproar, as well as a flashback to five months earlier. This is when we're really introduced to Emily Thorne, who has come to summer in the Hamptons. But Emily's not there to enjoy the sun, she's there to destroy those who destroyed her life a very long time ago.
We're quickly introduced to the other major players in this story: the wealthy and beautiful Grayson family, the far less affluent Porter boys, and the various other sycophants and debutantes who inhabit this decadent lifestyle. None of them realize they're all about to become pawns in Emily's game.
The pilot is fast-paced and introduces most of the crucial facts within the first hour, while also giving us a decent amount of insight into the most important characters. It does start at the end, which is a plot deivce that is used frequently these days, but that's not really important. My only question when first watching the pilot was how long can they sustain the revenge plot, especially depending on how long it takes Emily to destroy each character. How many seasons can Emily spend on her very specific goal? I suppose it will depend on how many layers there are to the mystery of what happened to her father (more on that soon). The producers have said that the action in the Hamptons and the current mystery will end at some point the focus of the show will move to New York and, presumably, new storylines. But that is only a mild concern at this point and I am eager to see how the story progresses.
You might be thinking that Revenge is simply another Desperate Housewives. The show can come across as a primetime soap, but it's occasionally darker and more serious than Housewives and it is definitely worth your time.
To help introduce you to Revenge, we've put together a handy character guide to introduce you to the major players (click on the arrows below to go through it). You can also view a trailer below. The final page of the character guide is filled with additional sneak peeks from the premiere.
Revenge premieres on September 21 at 10:00 p.m. on ABC.
Emily Thorne (played by Emily Van Camp)
Emily (formerly known as Amanda Clark) is a new arrival in the Hamptons for the summer. A friendly girl, she's accepted into the social world on the shore. But Emily's hiding secrets. This isn't her first trip to the Hamptons. When she was nine years old, she and her father used to vacation in town. One night her father was framed by people he trusted (and a woman he loved). Emily's father spent the rest of his life in prison. Emily never saw her father again and spent almost 17 years growing her rage. As an adult, she's returned to the scene of the crime to take her revenge on the people who ruined her father.
Victoria Grayson (played by Madeleine Stowe)
Victoria is a wealthy and glamorous woman who rules the Grayson family and the Hamptons social scene. Victoria isn't one to suffer fools lightly and has the ability to socially destroy those who betray her. She won't hesitate to turn on her best friends if she feels wronged. Victoria is involved in the events in Emily's past and betrayed her father. She'll soon learn that what goes around comes around – especially when her son Daniel is caught in the cross-fire.
Conrad Grayson (played by Henry Czerny)
Conrad is married to Victoria (but he seems to forget this fact when he's crawling into bed with his mistress). He's a very successful tycoon, but his moral integrity is questionable and he's willing to go to great lengths to avoid scandalous situations. Like Victoria, Conrad is connected to the terrible events in Emily's past.
Daniel Grayson (played by Josh Bowman)
Daniel is the son of Conrad and Victoria and is the golden boy of the Grayson family. But like some very rich, very public young men, he's not exactly responsible and he likes living the party life. He joins his family in the Hamptons for the summer and finds himself unable to resist Emily's charms. Unfortunately, Daniel doesn't know that Emily is using him to bring down the people who ruined her own family.
Charlotte Grayson (played by Christa B. Allen
Charlotte is the fourth member of the Grayson family and is Daniel's sister. As the daughter of one of the Hamptons' richest families, Charlotte enjoys acting like a princess and a mean girl. But she's also drawn to boys from the wrong side of the tracks.
Nolan Ross (played by Gabriel Mann)
Nolan is a newly rich member of Hamptons society with an Internet fortune. Unfortunately, he's also socially awkward and spends a lot of time observing his surroundings through a video camera. Initially, in public, he acts like he doesn't know Emily. But, as we soon discover, the truth is that they are connected and he knows all about her past. He's also eager to help her in her plans for vengeance, but she doesn't want a partner.
Ashley Davenport (played by Ashley Madekwe)
Ashley is one of Emily's closest friends. She's also an event planner who is desperately trying to get into Victoria's good graces and into Hampton society.
Jack Porter (played by Nick Wechsler)
Jack is a dedicated son who helps his father run a local "townie" tavern. But Jack is getting restless and yearns to escape his life in the Hamptons on his boat, only to remain because of loyalty to his family. Jack is drawn to Emily when she arrives in town and can't shake the feeling that they've met before. And he's absolutely right, the two of them used to be friends when they were children.
Declan Porter (played by Connor Paolo)
Declan is Jack's younger brother who also works in their father's tavern. While Declan is well-intentioned, he's fascinated by the lives of the wealthy Hamptonites and chooses to pursue Charlotte Grayson.
Lydia (played by Amber Valletta)
Lydia is one of the wealthy Hamptonites who is also friends with Victoria. But Lydia is hiding a big secret: she's also very close to Victoria's husband Conrad. "Very close" as in "having an affair". Will Victoria learn that one of her dearest friends is betraying her? You'll have to wait and see. Like most of the other people in the Hamptons, Lydia is also connected to Emily's father and what happened to him in the past. She also happens to be the owner of the house Emily is renting for the summer. Valletta isn't billed as a regular, but you'll be seeing quite a bit of her in the show