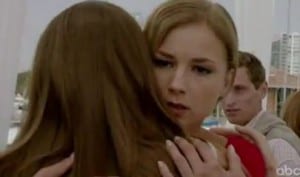 Emily Thorne is back!  But it looks like she might be in over her head in season 2 of Revenge.
In the freshman season of ABC's new hit drama, Emily wreaked a lot of destruction in her Hamptons playground.  Targeting the Grayson family and their allies who worked to take down her father, she successfully managed to get many of them discredited and disgraced.  But while many of the co-conspirators  have felt Emily's wrath, the Grayson family has not yet been destroyed (unless you count the divorce, Daniel's stint in prison, Victoria's plane explosion and Charlotte's attempted suicide, although none of those were really part of Emily's plan). 
Season 2 of the show will present us with new drama.  Fauxmanda is still hanging around, pregnant with Jack's baby, Daniel is getting darker, and Emily has caught the eye of some very dangerous people.  Are they the ones who put her into the sticky – and wet – situation in the preview below?  How will Emily swim her way out of this one?  We have no doubt the devious schemer will find a way.  Watch the preview below.
Revenge will be moving to Sundays for its second season and will return on Sunday, September 30 at 9:00 p.m. ET/PT.  Visit our Revenge page for all of our previews, sneak peeks, recaps and spoilers for the show.