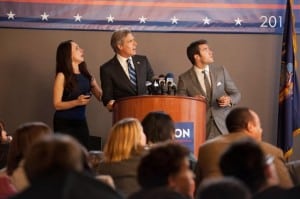 Revenge fans are being treated to a super-sized two hour season finale this year and it's happening this weekend! Simply titled "The Truth", we have to admit that ABC isn't giving much away about what's to come.
Here's what the network has to say: "In the first hour, entitled "Truth, Part One" (9:00-10:00 p.m.), a series of dangerous events has been set in motion and it all comes to a head in one catastrophic moment that will change everyone's lives forever. In the emotional second hour, "Truth, Part Two" (10:00-11:00 p.m.), the devastation leads to a heartbreaking death that will send shockwaves down the shoreline and force Emily to take a hard look at the truth and the path of revenge she has embarked on."
That doesn't tell us much, but the photos reveal a few things: Conrad's speech will be interrupted by something shocking, Daniel and Aiden will get into another fight, Emily looks completely devastated at some point and there's a lot of running going on. Plus, what will happen to Charlotte and her baby? Who will die (my money is on Declan)? Â Will Victoria's first son show up? And, most importantly, will Emily confess the truth about her entire revenge scheme to Jack?!
Watch a preview below and click the link to browse through photos for the season finale of Revenge airing on May 12 beginning at 9:00 p.m. ET/PT on ABC.
[youtube=http://www.youtube.com/watch?v=ws2HwI1mQR4&w=500&h=345]